Brand Ambassador Spotlight: Meg Boggs + Her Campaign "Fitness for Every Body"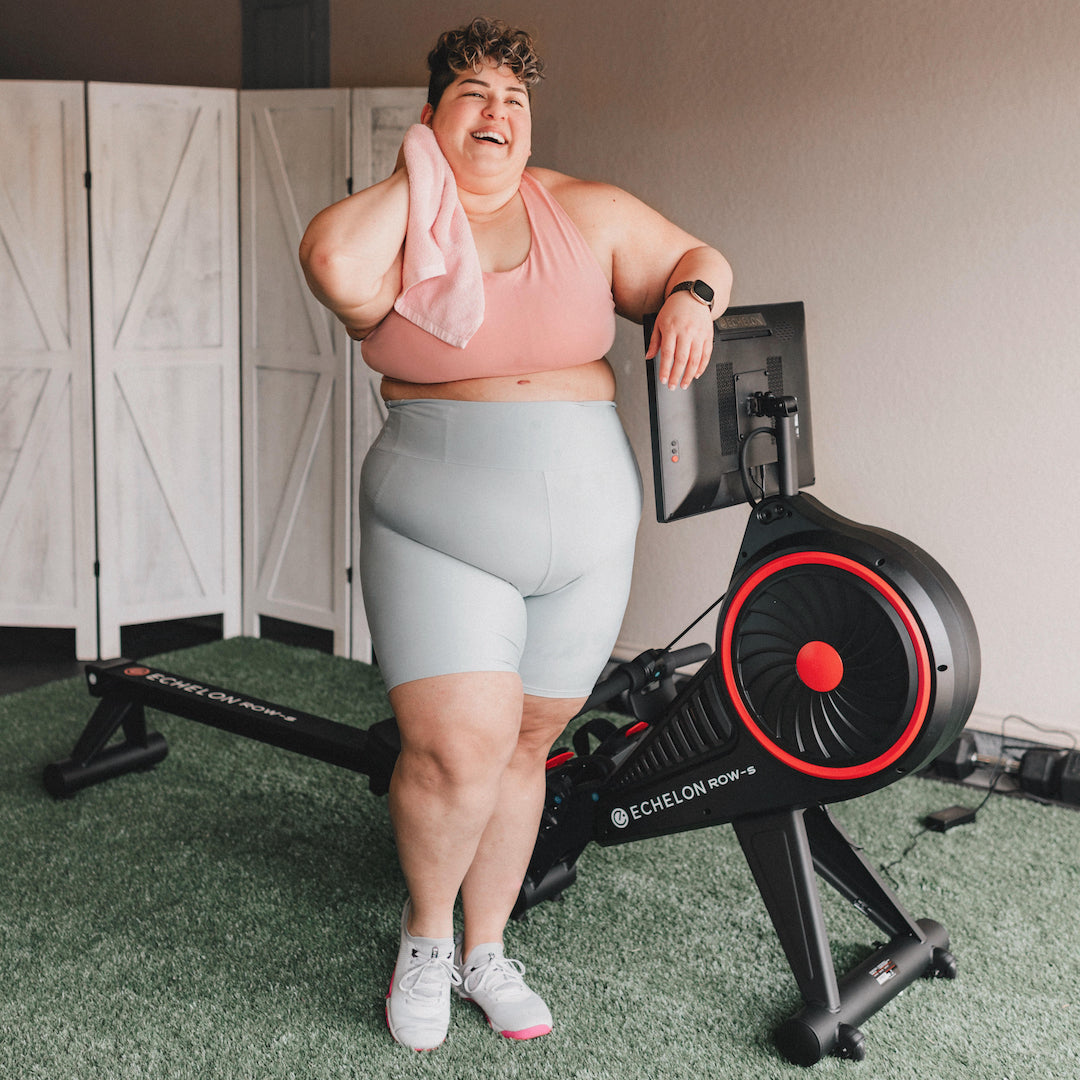 The world of fitness can seem intimidating in the sea of sculpted abs and chiseled arms, but Echelon Brand Ambassador Meg Boggs doesn't let the preconceived notions of what health looks like stop her from chasing her love of fitness. 
Meg — a published author, Instagram influencer, and content creator — seeks to "inspire women and mothers of all kinds, shapes, colors, and sizes to find the strength and courage to embrace life, love endlessly, and live intentionally." Part of that mission is spreading her belief that fitness should not be exclusive but something everyone can participate in. Her story of embracing her body and a desire to spread the message inspired her book Fitness for Every Body: Strong, Confident, and Empowered at Any Size.
Meg embodies our belief that health isn't about shape and fitness isn't only for the elites. We are inspired by her story and want to spread her message. Here is Meg's story.
Journey to Self-Acceptance
While Meg is known for her body positivity, self-acceptance did not happen overnight. In 2015, her gynecologist told her she most likely wouldn't have a healthy pregnancy. Says Meg, "This was not because of anything other than the number penciled on my chart. The number labeling my weight." She began working out every day and "tried diet after diet." Meg lost almost 100 pounds noting, "I kept getting smaller. But I wasn't feeling happier. Until I got pregnant in the spring of 2017."
Meg explains that during her pregnancy, her body "naturally gained back all of the weight I had forced it to lose." After the birth of her daughter Maci, she had a life-altering revelation that completely changed her mindset and focus on life. "I was going to give it all I had to begin learning to love my body as it is while still focusing on my health with a positive approach," says Meg. "I started powerlifting and completely ditched the idea of intentional weight loss." 
Wanting to share her journey, Meg began blogging two months after Maci was born, and on her blog, she now shares "all things motherhood, marriage, fitness, self-love, style, health, and life." 
Move in a Way that Makes You Happy
When Meg decided to accept her body, she was then free to enjoy fitness and focus on how being active made her feel instead of exercise being a source of stress and anxiety. She describes this approach to as "Move in a way that makes your body feel good, whatever that means for you."
Meg practices a variety of workout styles to keep fitness interesting and "choosing things that [feel] fun." This is one of the reasons she loves her Echelon Row-s and the versatility it provides. "If you're looking to add more to your workout just rotate the 22" touch screen to take one of [Echelon's] off-equipment classes like Pilates, Barre, and kickboxing," explains Meg. "You can even go on scenic rows as well; my new favorite way to warm up. There are so many options available."
Empower Others
We thank Meg for sharing her story and her empowering views on fitness, motherhood, self-love, and living life to the fullest. Her positivity, confidence, and desire to mentor others is a true inspiration to us all. 
If you want to learn more about rowing, read our post The Versatility of Rowing or check out Echelon's Row and Row-s. Together we strive to enjoy being active and moving in a way that makes us happy.
---