Get to Know Our FitPass Classes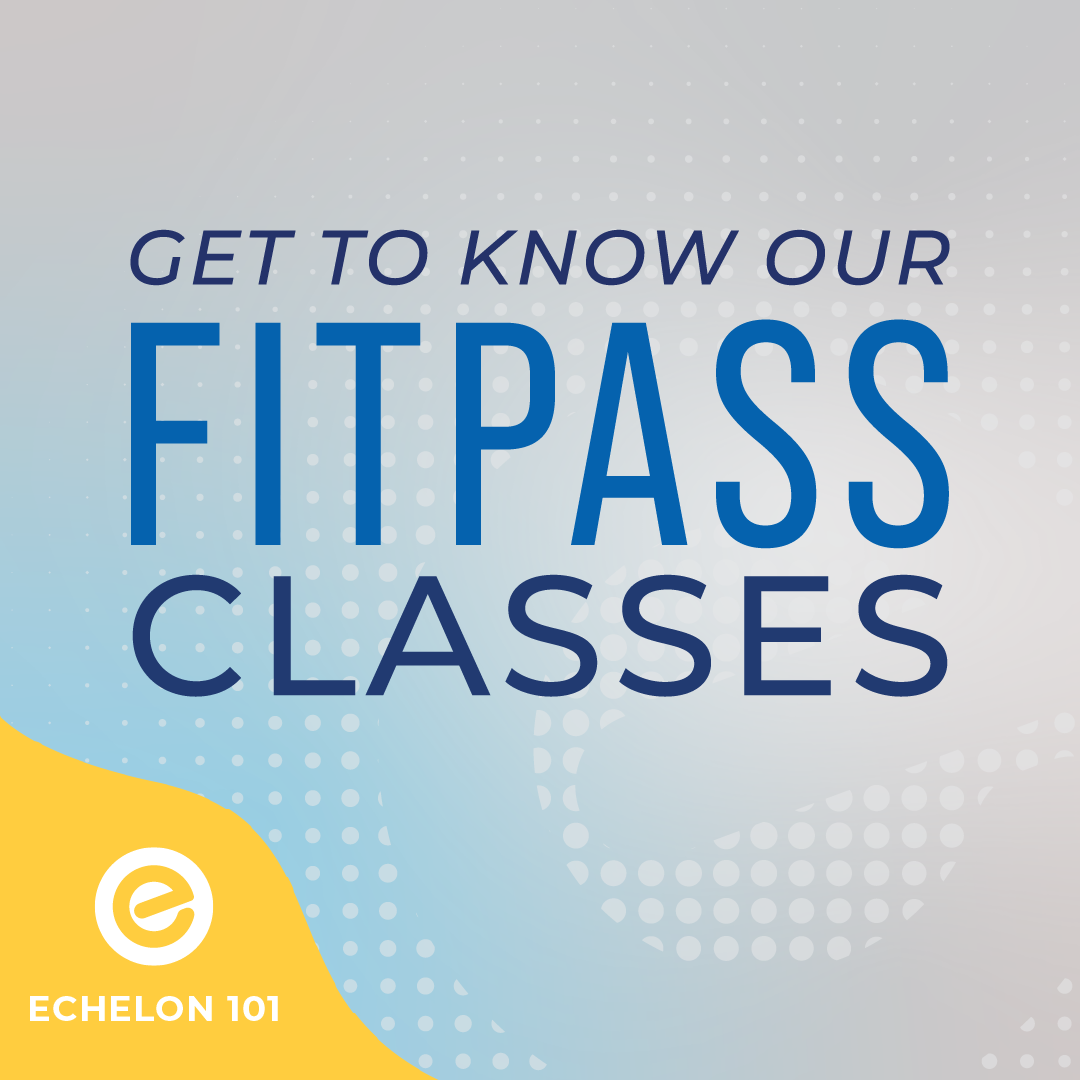 Our equipment-free FitPass classes offer a variety of class types to keep you engaged with your fitness journey. We've explained all of our FitPass classes to help you decide what class type to try next.
When you want to check out the hype, try...
Barre
Barre classes are inspired by classical ballet and Pilates-based movements and focus on high repetition, micromovement-based exercises, and smaller ranges of motion to achieve results. You can use a ballet barre, chair, arm of a couch, or countertop for this workout.
Pilates
Pilates is a low-impact workout that strengthens and lengthens your core muscles while improving posture and flexibility. Incorporating lights weights into this practice is optional.
Taste of Zumba®
Taste of Zumba® is a 20- to 30-minute adaptation of the total-body dance-fitness experience you know and love from Zumba.®
Breakin'
Breakin' (widely known as breakdancing) classes teach you moves and build up your skills until you're ready to put it all together in fun sequences.
When you want to increase stamina, try...
Boxing Bootcamp
Boxing Bootcamp is a high-impact total body class focusing on half boxing, half strength to improve your boxing skills and build strength and cardio.
Kickboxing
Kickboxing is a high-energy class that combines martial arts techniques with fast-paced cardio to challenge your strength and flexibility while improving coordination and stamina. Incorporating weights during this workout is optional.
HIIT
HIIT, high-intensity interval training, is a total-body workout featuring intermittent bursts of vigorous activity mixed with periods of rest to maximize the cardiovascular system. Weights are optional.
When you want to build strength, try...
Lower Body Strength
Lower Body Strength workouts are designed to build lower-body strength to tone and tighten your legs, glutes, and core. Weights are recommended.
Upper Body Strength
An Upper Body Strength workout improves your upper body strength and tones your arms, back, chest, shoulders, and core. Weights are required for these classes.
Total Body Strength
Total Body Strength pushes your body to the next level using strength training intermixed with aerobic activity for a total-body burn both during and after class. Weights are recommended.
When you want to target muscle groups, try...
Arms and Abs
Arms and Abs provides a quick burn and focuses on defining your biceps, triceps, shoulders, and core. Weights are recommended.
Core Strength
Core Strength classes target your core and lower back using functional movement to enhance total body endurance, power, strength, and stability. Incorporating weights is optional.
Glutes and Thighs
The Glutes and Thighs class is a quick burn focusing on lifting and sculpting your glutes and thighs. Weights are recommended.
When you want to practice mindfulness, try...
Athletic Yoga
This class is a faster-paced vinyasa yoga practice linking breath with movement while building strength, cardio, flexibility, and balance.
Restorative Yoga
Restorative Yoga is a healing yoga practice where poses will be held for longer periods of time to encourage relaxation and promote a calming effect.
Slow Flow Yoga
Slow Flow Yoga is a more leisurely-paced vinyasa yoga practice that links breath with movement, balanced with holding poses for longer periods of time.
Vinyasa Yoga
Vinyasa Yoga is a yoga practice that links breath with movement at a moderate pace. This workout will build strength, flexibility, and balance.
Yoga 45 - Work through 26 different yoga poses throughout this 45-minute class. By repeating the sequence twice in every class, you will be able to feel yourself getting stronger and more comfortable in the poses each time.
Guided Meditation
Guided Meditation helps create a state of inner silence and peace by focusing on your breath.
Try a New FitPass Class Today
FitPass offers a diverse array of classes so no matter your mood, you are sure to find what moves you. Head over to the FitPass section of the Echelon Fit app and try a class that could become your new favorite workout!
New to Echelon? Our FitPass classes are available with the Echelon Premier Membership and the FitPass Membership. Join our community and see how equipment-free classes can help you reach your fitness goals.
---