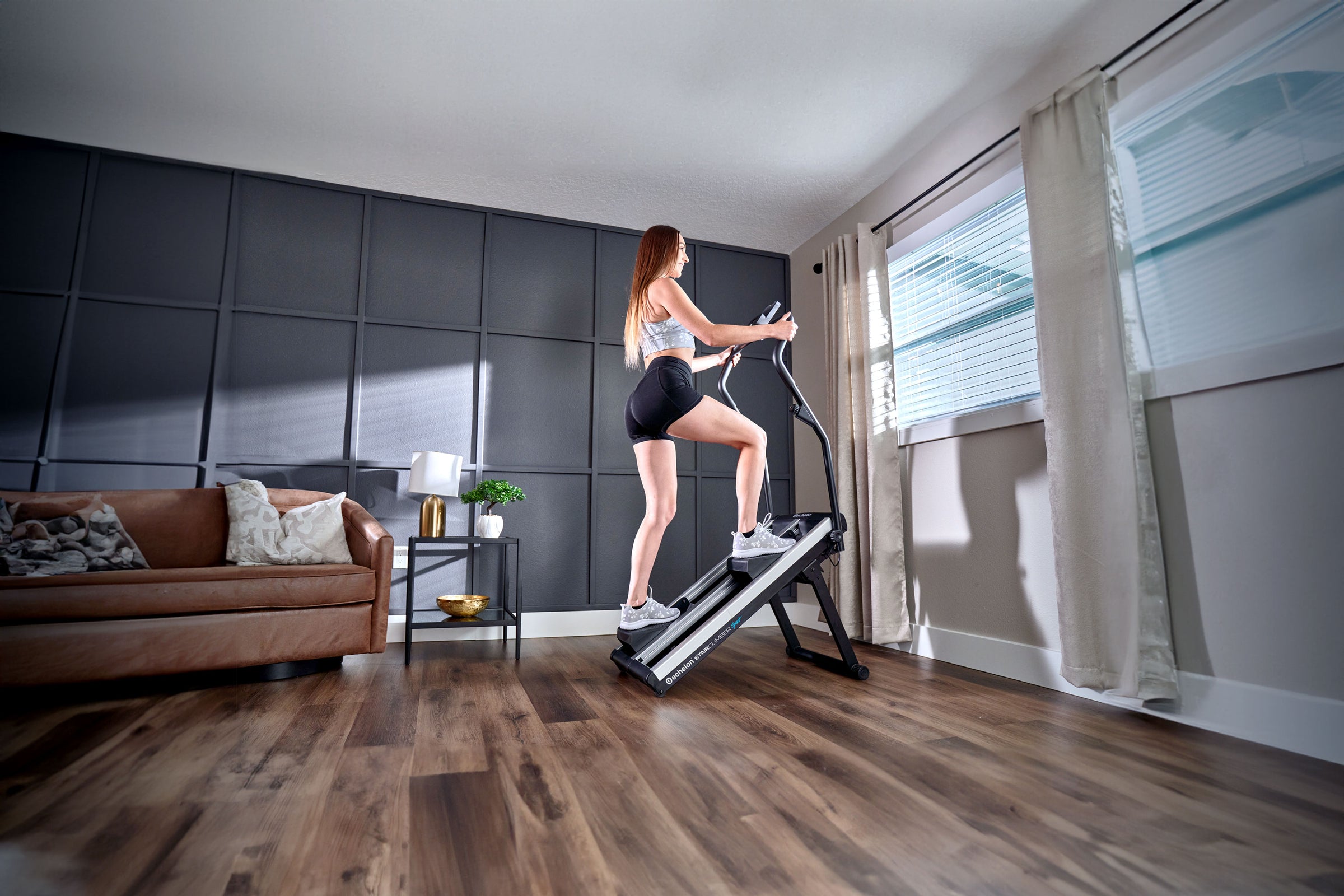 Step Up Your Fitness With the Echelon Stair Climber Sport
The Ultimate Home Workout Machine
Tone Your Total Body
Engage all major muscle groups and burn fat with every step on this powerhouse machine. Customize your workout with adjustable resistance levels to crush your goals. The Stair Climber Sport burns up to three times the calories of a treadmill, supercharging your fitness journey.
Compact Design
The Stair Climber Sport is compact and easy to store. It can be folded and stored away when not in use. The machine also has built-in wheels, allowing for easy movement around your home. With its compact design, you can get a full-body workout without taking up much space
Track Your Progress
The Stair Climber Sport comes with a built-in console that displays your time, speed, distance, and calories burned, so you can easily track your progress and adjust your workouts accordingly.
Burn up to
3x the calories

of a treadmill
Adjustable resistance and incline levels

The fitness equipment allows you to customize your workout experience according to your fitness goals by adjusting the resistance and incline levels. With a wide range of settings, you can increase or decrease the intensity of your workout, making it easier or more challenging as required.

Two Padded Handle Positions

The fitness equipment comes with two padded handle positions that offer a comfortable grip while you work out. These handlebars are strategically placed to help you maintain the right posture during your exercise routine, reducing strain on your muscles and joints.

Bluetooth® Connectivity

The console of the equipment is equipped with Bluetooth® connectivity, which displays your workout stats, including calorie burn, speed, distance, time, and heart rate. You can also connect the equipment to your smartphone, tablet, or other devices, and monitor your progress through fitness apps.
Burn up to 3x More Calories
With a low-impact yet high-calorie-burning workout, this Stair Climber Sport is an efficient way to shed pounds and achieve weight loss goals. Adjustable resistance and incline levels offer a challenging workout targeting multiple muscle groups.
Targets:
"As seen in CNN's favorite product releases."

"If you are looking for a portable, compact treadmill with a small footprint for storage, the Echelon Stride is ideal. It's an affordable option, especially for its quality and versatility—and especially on its current markdown."

"Designed with every body in mind, Echelon's Smart Connect Cycle features a small footprint that doesn't take over your space."

"The Stride Treadmill is a great all-around option that won't break the bank. This 'smart' tread offers a ton of sweet tech features to help you make the most of your workout."

"This piece of home gym equipment includes a 30-day free trial to Echelon Premiere, which offers access to -- not a misprint -- 3,000 live and on-demand classes by fitness professionals."

"The Echelon Connect Bike EX5-S is the solution to cycling boredom."

"Best Compact Folding Treadmill: If you're looking for a folding treadmill that's super compact, Echelon's Stride has you covered."

"Echelon has quickly become a brand to be trifled with, offering a range of connected, high-end home workout gear."

"The Echelon is probably the most affordable Peloton dupe that comes at a fraction of the cost of competitors without losing the main markers of a good at-home workout bike."

"When you need a sturdy, nearly gym-quality treadmill in your home that you can also store under your bed, check out the Echelon Stride."

"Best Folding Treadmill
Best Compact Treadmill
Best Studio Feel"
5

"The Stair Climber was a revelation for me. It was gentle on my knees and ankles, and I saw a remarkable improvement in my cardiovascular fitness."

-Roberto

5

"I've been using the stair climber for a few months now, and the results are amazing."

-Shelby

5

"When I saw this, I knew I needed it. My favorite home fitness product, I am addicted."

-Rebecca
Don't miss out!
Get yours today for only $599 - free shipping included!

Payments as low as $14/mo!
ADD TO CART