Classes for the Whole Family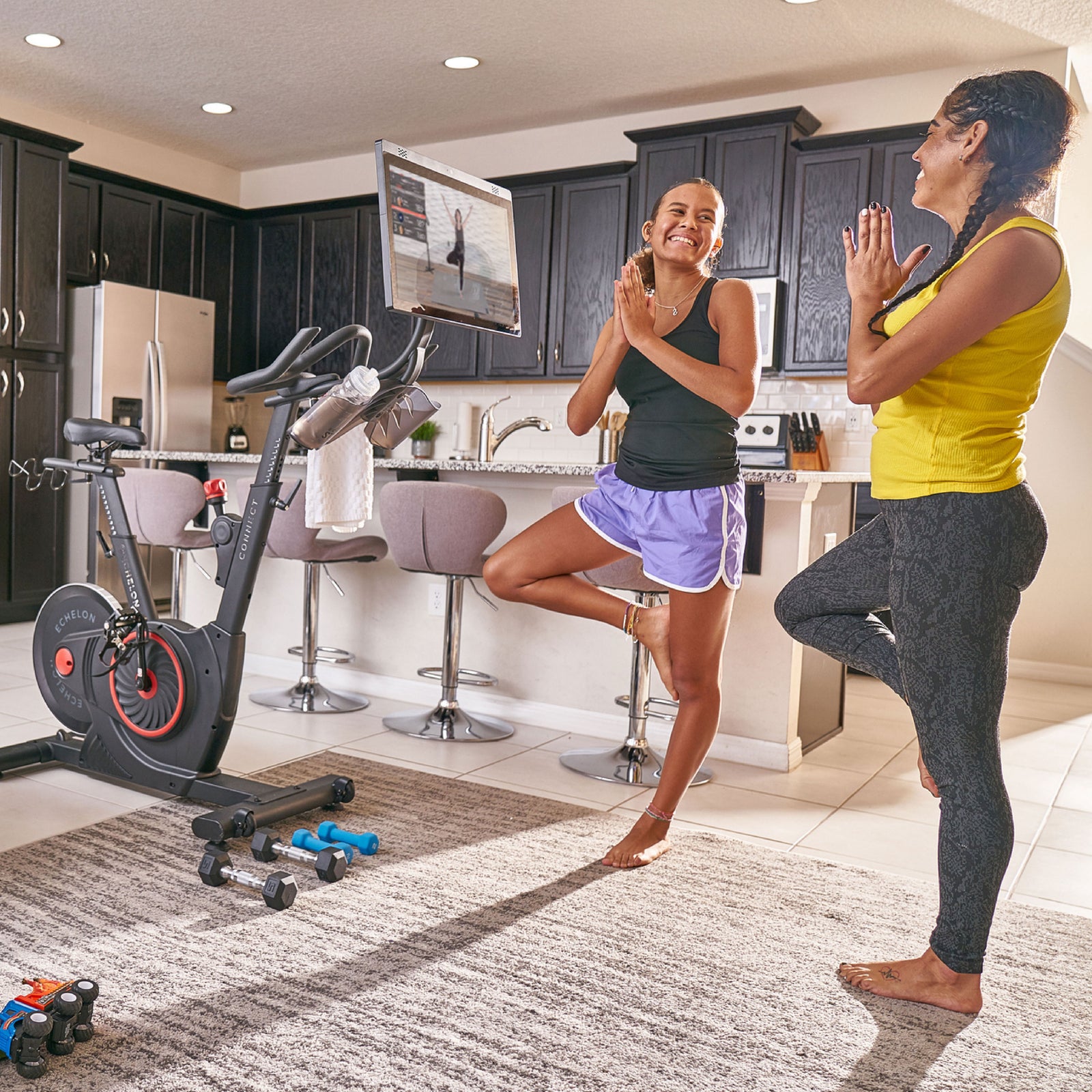 Did you know that the Echelon Premier Membership comes with five users per account? So make the most out of your membership with fitness for the whole family! With a wide variety of class options, everyone can find an Echelon class — regardless of age or experience level!


Prenatal Classes for the Growing Family
To help mothers-to-be stay healthy during pregnancy, Echelon UK instructor Sage put together a prenatal series while pregnant with her daughter. During the prenatal program, you will find exercises that are safe for all stages of pregnancy. Each 15-minute workout can be done alone or combined with any other prenatal program for a well-rounded, full-body workout. The program includes:
Prenatal Mobility:

Comprised of exercises that help keep a full range of motion through your joints and strengthen the muscles surrounding them to create the stability you need to stay fit and mobile.

Prenatal Core:

Core exercises help to keep your abdominal muscles and glutes strong through pregnancy. These safe, practical exercises will help stabilize and strengthen your mid-section during your pregnancy and assist in your postnatal recovery.

Prenatal Upper Body:

Low impact, light-weight strength training designed to target arm and back muscles that are integral to maintaining good posture and support your day-to-day activities.

Prenatal Lower Body:

Low-impact, lower body exercises designed to activate the largest muscles in your body. They are crucial to providing stability and strength throughout your pregnancy, labor, and recovery. 
Zumba® Inspired Classes for the Energetic Family
Whether you are new to Zumba®, a veteran, or somewhere in between, you don't need to be a great dancer to feel welcome. These high-energy dance workouts are one of the most popular groups of exercise classes in the world, set to fun, upbeat music featuring choreographed dance fitness routines that are sure to leave you energized and with a true sense of accomplishment. Echelon offers two Zumba® inspired classes:
Taste of Zumba®

is a 20- to 30-minute adaptation of the total-body dance-fitness experience you know and love from Zumba

®

.

Zumba® Party Ride

is an Echelon-exclusive bike class where connected cycling meets high-energy Zumba

®

music and choreography.


Yoga Classes for the Flexible Family
From improving strength and flexibility to benefiting heart health, practicing yoga is an excellent workout for the whole family. Grab a few yoga mats and enjoy a yoga class together for a healthy bonding activity. Echelon offers a variety of yoga classes so everyone can find the proper workout:
Restorative Yoga: 

A

healing yoga practice where poses are held for an extended period to encourage relaxation and promote a calming effect.

Vinyasa Yoga: 

A yoga practice that links breath with movement at a moderate pace. This workout will build strength, flexibility, and balance.

Slow Flow Yoga: 

A more leisurely-paced vinyasa yoga practice that links breath with movement, balanced with holding poses for extended periods.

Athletic Yoga: A faster-paced vinyasa yoga practice linking breath with movement while building strength, cardio, flexibility, and balance.


Cycling Classes for the Family with Older Kids
If your family includes members over the age of 13, cycling could be the way to go! Echelon cycling classes offer a wide range of difficulty levels paired with must from every era so everyone can find their fit. Some cycling highlights:
Teen Fusion Rides: 

A medley ride of strength, power, and speed designed for teens. These classes feature clean music, more descriptive instructions, and can be a little less challenging than the regular fusion classes.

Brunch with the Hagers: Led by married instructors Brian and Amy Hager, these fun classes are great for adults and even better for the family with two bikes!


FitPass Classes for the Family with Young Kids
Family-friendly classes are FitPass off-equipment workouts created for families with young children. Each class is five or ten minutes long and features exercises and music that are great for every family member. 


Start Moving with Your Family
No matter your age or fitness level, we have a class for everyone! From prenatal classes to teen fusion rides and everything in-between, our world-class instructors are ready to help each member of your family reach their fitness goals!
New to Echelon? All of the classes in this post and many more are available with the Echelon Premier Membership. So join the Echelon community and start your family's fitness journey! 
---