Experience Echelon Live + In-Person at the Studios!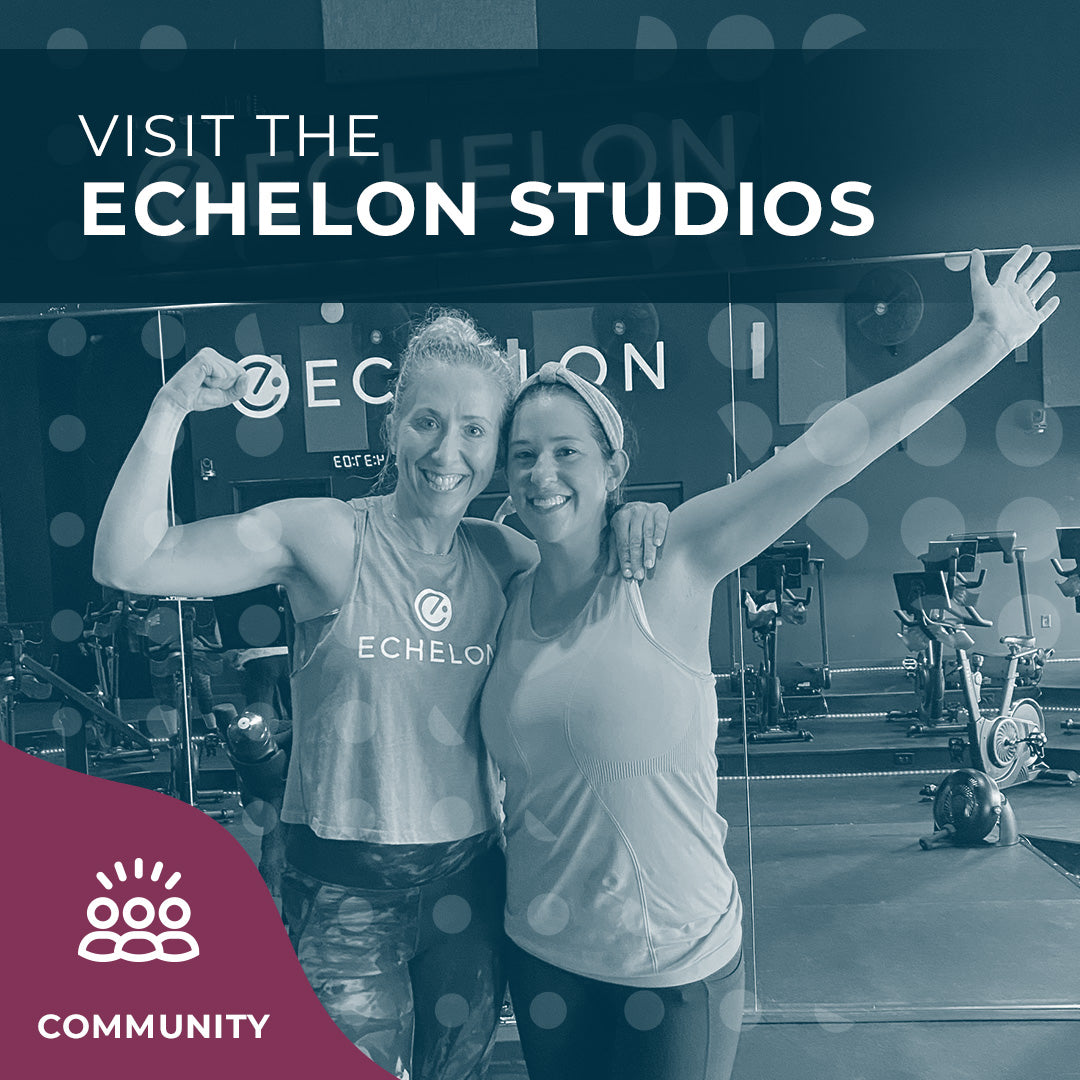 One of the best aspects of Echelon is that you can enjoy all the benefits of group fitness, including the fantastic community, without leaving home. But there is truly something special about the moment when you can meet your favorite Eche-friends in-person. Here is the story of some of our members traveled to the Chattanooga studio for an unforgettable trip.
Are you ready to visit a studio and experience why Amber describes taking a live class with the instructors as "basically like a kid going to Disneyland for the first time"? Echelon Premier Membership includes in-person classes, so book your trip and come mark a studio visit off your Echelon bucket list!
Plan Your Studio Visit
Our U.S. studios use a system called Mindbody to schedule their in-person classes. When prepping for your studio visit, the first step is to create a Mindbody account through our Echelon Studio website so you can view and book classes. 
1 - Decide which studio you want to visit.
Currently, in-person visits are only available for our U.S. studios in Chattanooga and Miami. 
2 - Select "Create an Account"
Click the link below the login button to create your Mindbody account. 
3 - Complete the Form
Ensure you are create your account with the email address associated with your Echelon Premier Membership.
4 - Email Studio@EchelonFit.com
Ensure you email from the email address associated with your Echelon Premier Membership.
Include your full name, Leaderboard name, and the date for your visit in the email.
5 - Studio Will Link Your Accounts
Someone from the studio will be in touch within 24 to 48 hours. After they have linked your studio account with your Echelon Premier account, you will be able to register for any classes you would like during your visit.
6 - Login to EchelonStudio.com 
Here you can view the schedule to decide what classes you want to take during your visit! 
7 - Download the Mindbody App
Alternatively, you can download the MindBody app to book classes with just a few clicks from your smartphone or tablet.
FAQs and Echelon Premier Member Perks*: 
Dont Forget:
To bring your Echelon Fit app login information 

To grab your free Echelon swag bag from the front desk

To ask for a tour of the studio

To say hi to the instructors!

To follow Echelon Studios on Facebook and post about your journey along the way!
Perks:
Complimentary cycle shoes and Echelon heart rate monitors are provided during your visit.

Enjoy 25% of all our Echelon merchandise/apparel while visiting the studio, including Echelon cycle shoes!

Current Echelon Premier Members visiting the studio will be able to take advantage of special product discounts on Echelon Strides and Rowers. Be sure to get connected with a studio manager to take advantage of these deals!
If you have ever wondered what the instructors are like in person (Melissa insists Nicole is "just as amazing in person as she is on the Leaderboard") or if you have dreamed of seeing where your favorite classes are filmed, now is the time to schedule a trip to Chattanooga or Miami! 
*Member perks effective starting on August 9, 2021.
---