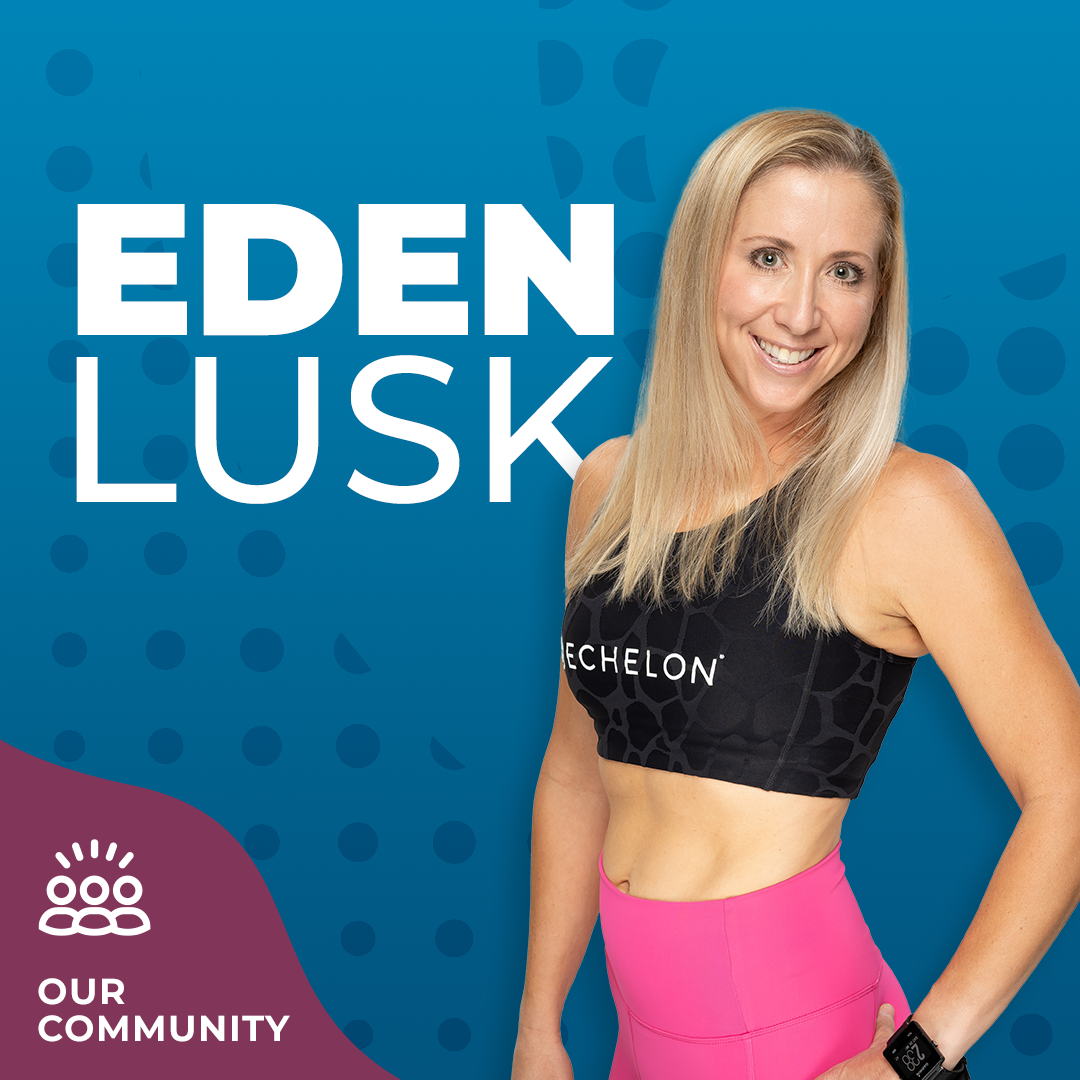 Get to Know… is Echelon's weekly spotlight on our amazing instructors. 
Learn more about your current favorite instructors and discover new ones below.
---
Instructor: Eden Lusk
Teaches On: Connect Bike, FitPass, Row
Studio: Chattanooga
Instagram: @livewellwitheden
Meet Eden
Eden leads with an open heart — not just in her classes, but in all aspects of her life. She loves dogs, with a particular fondness for adopting senior dogs, although her most recent adoption was a rescue beagle puppy.
Much like her dogs, Eden has never met a stranger. She prides herself on being down-to-earth and approachable, and though she's competed in multiple Ironman races she also loves to lounge in bed. She could sleep until 10 am every morning if she doesn't set her alarm. 


Eden's Fitness Journey
Eden was training for her second Ironman in 2017 with her husband and close friend when she realized her passion for personal training. Her friend often relied on her for support, encouragement, and motivation; and Eden found that she was a natural at coaching her friend through the more difficult moments. She loved seeing her friend's growth during training and was happy that she could be someone on whom her friend could rely. 
A month after the race, Eden began studying to become a personal trainer — and she's never looked back. She loves motivating people to break through their limitations and being a part of their fitness journey. 


What Brought Eden to Echelon
As a road cyclist who loves teaching cycling classes, Eden saw working with Echelon as a great opportunity to share her passion with the world. There's nothing more rewarding for her than sweating and cycling together! 
Eden also finds plenty of motivation in the Echelon community. She has made lots of connections that led to true friendships, and they also inspire her to lead a healthier life. Eden is always excited to see her tribe even on the Leaderboard and to witness their progress — they consistently show up with a no-excuse mentality. 


Eden's Advice for New Members
Eden leads high-energy classes with lots of direction, and she'll never ask you to do anything she isn't doing at the moment too. Eden's advice to new members is that consistency is key, as is trust in the process. It's not linear, so give yourself grace when you need to, but never lose sight of your why. 
One thing you'll hear her say in class is "You sweat, you smile, you do you." To her, being an instructor means ensuring that you get what you came for, and pushing you beyond what you perceive to be your limits. After class she wants you to walk away feeling empowered — you just kicked some major butt!! 
-
New to Echelon? You can join Eden on Connect Bike, FitPass, and Row. Her classes are available on-demand and live for Echelon Premier members in the Chattanooga studio and on the Echelon Fit app.
---