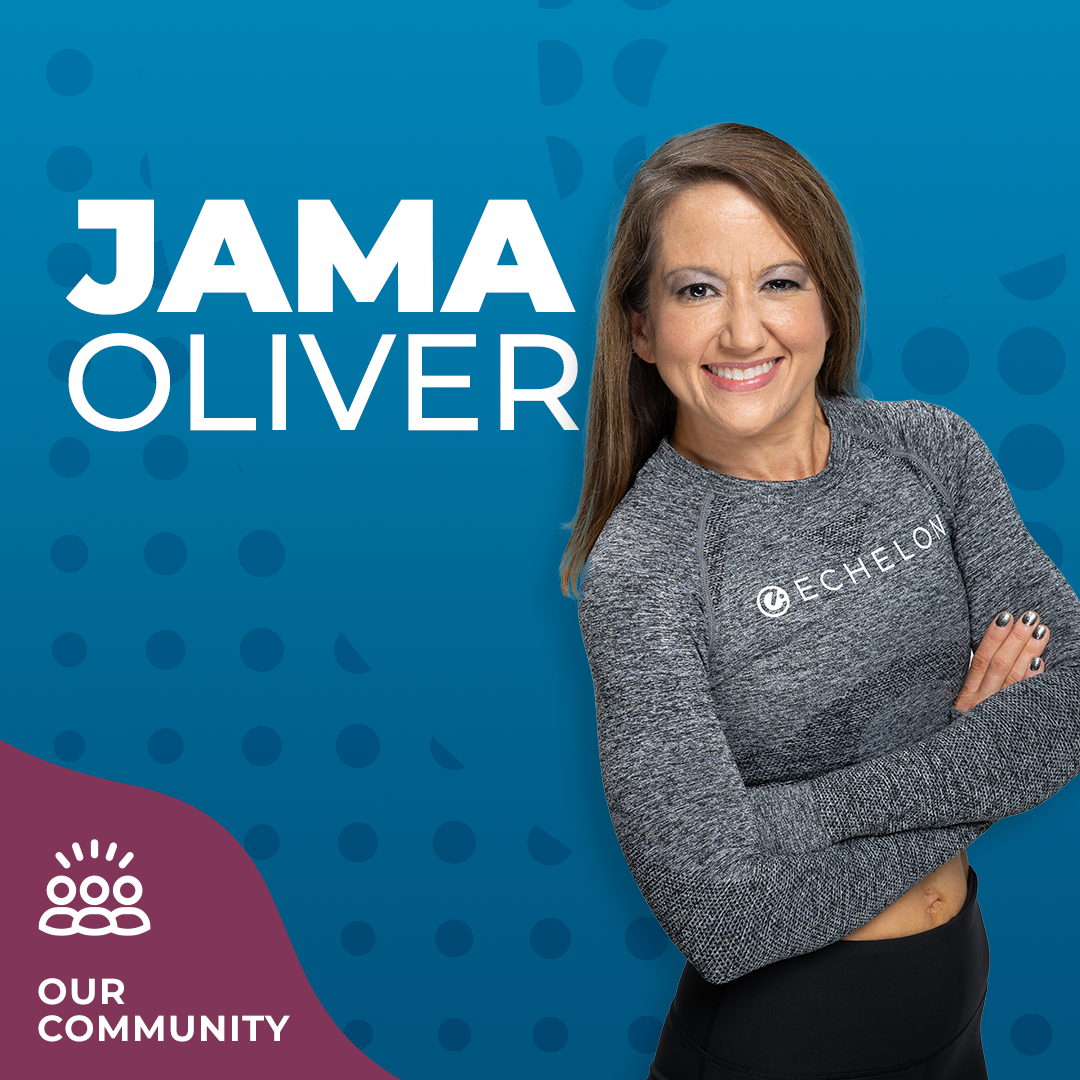 Get to Know… is Echelon's weekly spotlight on our amazing instructors. 
Learn more about your current favorite instructors and discover new ones below.
---
Instructor: Jama Oliver
Language: English

Teaches On: Connect Bike, Reflect Fitness Mirror, FitPass
Studio: Chattanooga
Instagram: @jama_oliver_fitness
Meet Jama
Jama is unabashedly herself. Her personality is as vibrant as her clothes — and often her hair. While she teaches to a wide variety of music genres, Jama loves the raw emotion of emo and the punk rock attitude set to melodies in pop-punk and frequently integrates that into her classes. 
Jama also likes to put an emphasis on acceptance in her classes. By sharing her own struggles and hard days, Jama teaches members in her classes that they are not alone, and can show up to do their best no matter what "best" looks like that day. 
As a mom of four, Jama also knows the importance of balancing work, life, fitness, and down time. She loves to spend rest days spending time with her family and four pets — two dogs, one cat, and a bearded dragon named Smaug. 


Jama's Fitness Journey
For Jama, exercise is so much more than a way to maintain a certain appearance — it's about maintaining a quality of life that allows people to do the things they want to do for the rest of their lives. Her mom was diagnosed with Parkinson's Disease in 1999, and over the next 15 years research proved that exercise can be as effective in reducing Parkinson's symptoms as medications. On the days when her mom would walk with her friends or take classes at her local gym, Jama could see how the exercise allowed her to move more freely.
Jama's first job as a fitness instructor was as a coach for the nonprofit Pedaling for Parkinson's, where she saw day after day the impact exercise had on people's ability to maintain mobility. She has also learned firsthand how exercise can help with mental health and strives to teach this holistic mindset in all of her classes.

What Brought Jama to Echelon 
Jama is proud to say that she was one of Echelon's very first instructors. A friend told her about the audition before the Connect Bike had even launched, and she had no idea what she was getting into. When she came in for the interview, she was told that Echelon would be a fitness platform for "real" people — moms and dads and working people who needed to make fitness work for their busy lives. She was sold and has been part of the Echelon team since that day!
"Echelon, from the very beginning, sought to hire men and women balancing fitness with jobs, kids, and the struggles of everyday life — and that was it for me. I'm just a regular mom who loves showing people how exercise can change their lives for the better, so Echelon and I are a perfect fit!" -Jama
What to Expect in a Class with Jama 
Join Jama's classes if you're looking for tough love mixed with humor and kindness. She believes that there are times when you just have to "suck it up and push through," but there are also times when you need to show yourself some grace and be happy to just move your body. Her ultimate goal is for everyone, from beginners to seasoned athletes, to be able to join her class and have what they feel is a great workout. 


Jama's Advice for New Members
Jama encourages new members to remember that fitness is something you do for your health, not your jeans size. Yes, you might lose weight. The real victory, though, is when you gain a new life. Remember your goals, remember your focus, and remember why you started.  
Jama draws inspiration from those who show up to do the work and give their all. During class, you'll often hear her say, "You're stronger than you think you are." Remember not to compare yourself to others. Just do a little every day until it becomes a habit.  
-
New to Echelon? You can join Jama on the Connect Bike, Reflect Fitness Mirror, and FitPass. Her classes are available on-demand and live for Echelon Premier members in the Chattanooga studio and on the Echelon Fit app.
---