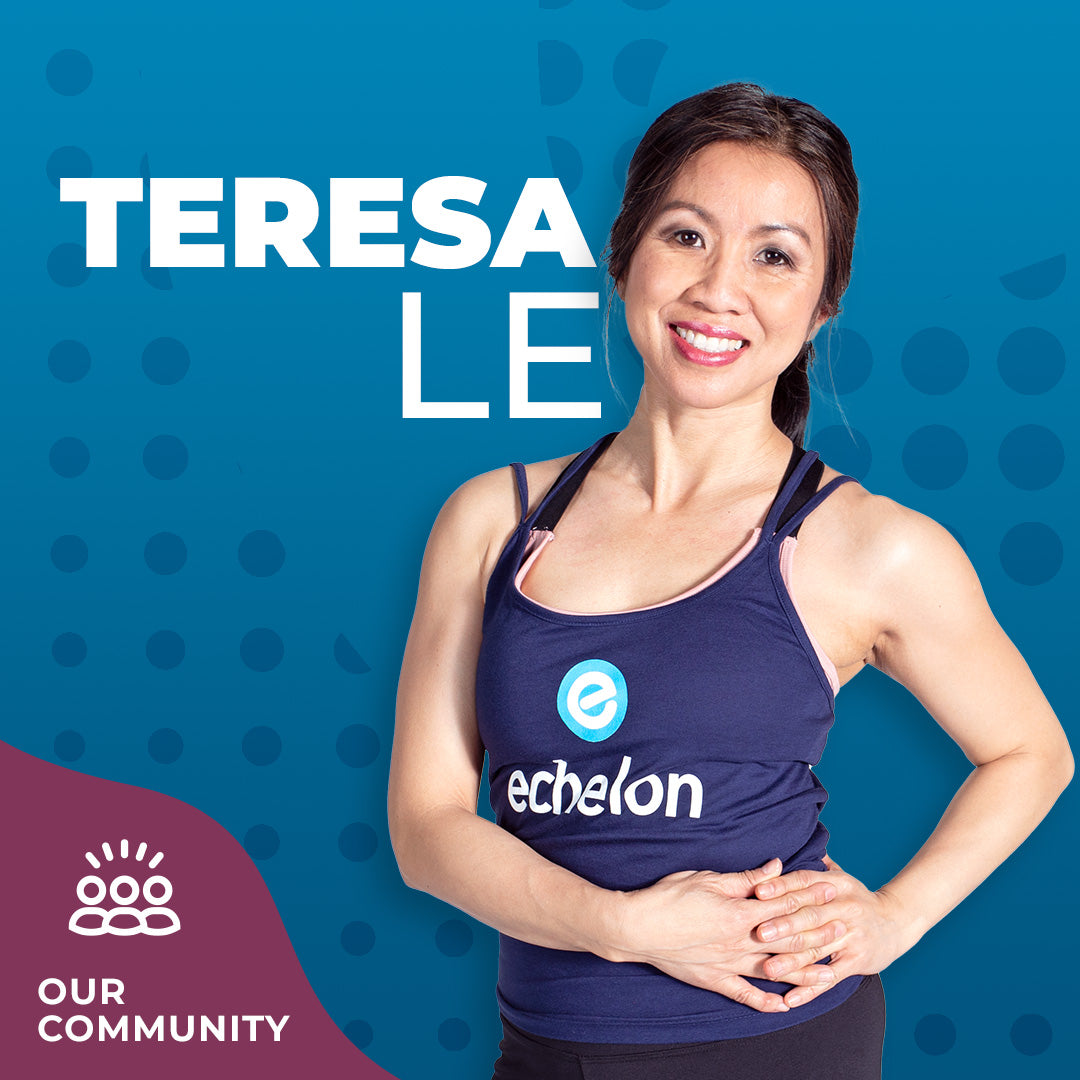 Get to Know… is Echelon's weekly spotlight on our amazing instructors. 
Learn more about your current favorite instructors and discover new ones below.
---
Instructor: Teresa Le
Language: English
Studio: Chattanooga
Instagram: @teresale.fit
Meet Teresa
Teresa is an engaging, gregarious instructor who is always on the move. In addition to more than fifteen years of experience as a Pilates instructor, Teresa is also an activewear designer who loves to max out her "rest days" working on various business ventures.
She loves to dance and incorporates dance music into her fitness routine to help burn extra calories by keeping herself moving. Teresa knows how to strike a fine balance between her health and wellness journey and enjoying the finer things in life: cake and pastries.
Teresa's Fitness Journey
With 15 years of experience under her belt, Teresa loves to focus on her health and overall wellness, with her family being a driving force behind her fitness journey; pushing her to reach her goals and seek beyond what she thought she could accomplish.  
What Brought Teresa to Echelon 
While Teresa initially found herself pitching her activewear design to Echelon, she soon found her footing as an instructor and became excited to pair her enthusiastic and supportive style of positive reinforcement alongside an innovative fitness brand.
With her passion for health and wellness and her knack for helping others, Teresa saw her passion easily translate into her ability to create engaging fitness classes, helping others unwind and progress towards their fitness goals.
Teresa's Advice for New Members
She is a huge believer in positive reinforcement and likes to remind her classes to "Stand tall!" When asked what her advice would be for someone new to fitness she says, "We were all beginners at one point. Stick with it, do your best, and don't compare yourself to others." 
-
New to Echelon? You can join Teresa on FitPass and Reflect. Her classes are available on-demand and live for Echelon Premier members in the Chattanooga studio and on the Echelon Fit® app.
---