Get to Know… Vandon Jones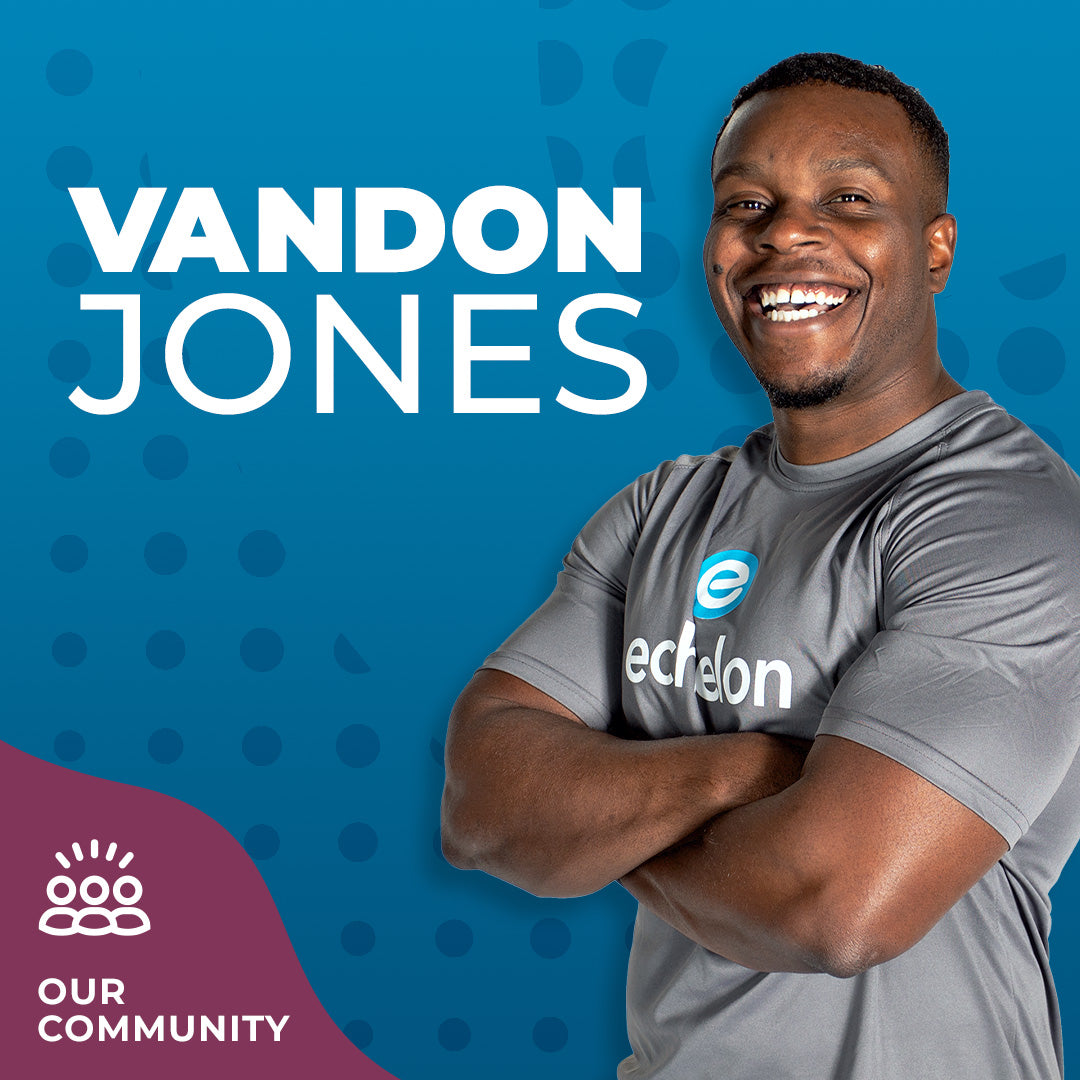 Get to Know… is Echelon's weekly spotlight on our amazing instructors. 
Learn more about your current favorite instructors and discover new ones below.
---
Instructor: Vandon Jones
Language: English
Teaches On: Connect Bike, FitPass
Studio: Chattanooga
Instagram: @vandonjones
Meet Vandon
In Vandon's classes, you'll often hear him say, "Easy doesn't make you better." A self-proclaimed "coach through and through," Vandon is passionate about music, movement, and motivating people. He advises members not to focus too much on the tangible — progression is not always about the things you can see as much as it is about the things you can feel. 
When he isn't leading classes, Vandon can be found chowing down on Italian food and cheering on his alma mater, Florida State University.


Vandon's Fitness Journey
Originally a cycling studio facilities manager, Vandon started leading classes when faced with layoffs. Though it wasn't a path he originally saw for himself, Vandon found that he loved being an instructor. He coached at a number of studios before moving to Chattanooga and joining the Echelon team. The most valuable part of being an instructor to Vandon is being afforded the opportunity to make a difference in someone's life through movement, vulnerability, and a positive message.  
Vandon finds inspiration in the hustle mentality of hip-hop and New York City, as well as the people he has yet to meet:
"I feel that growth is dynamic and every day is an opportunity to be a better person. There are people that you haven't crossed paths with yet, and what you're doing in the present is setting you up to be a blessing for them in the future, and the universe is doing the same for you in return." 
What Brought Vandon to Echelon 
Vandon had already been coaching fitness classes for five years when he discovered Echelon. He knew he wanted to be part of the community, especially since it gives him the opportunity to connect with people from all over the world. 
Vandon likes taking the time to understand and connect with the soul of his community, and found kindred spirits within Echelon's. His favorite part is that he is sharing space and being a part of a community of so many diverse individuals dedicated to bettering themselves mentally and physically. 


Vandon's Advice for New Members
Vandon's favorite phrases while leading classes include "easy doesn't make you better" and "results are earned, not given." His goal is to encourage members to find their limits and then push past them. 
But Vandon's best piece of advice is for members to "trust the process." You hit your goals when you're focused more on the process and less on the outcome. During times of adversity and oppression, Vandon believes this approach can keep you motivated and inspired. 


-
New to Echelon? You can join Vandon on the Connect Bike and FitPass. His classes are available on-demand and live for Echelon Premier members in the Chattanooga studio and on the Echelon Fit® app.
---