Walking: A Path to a Healthier You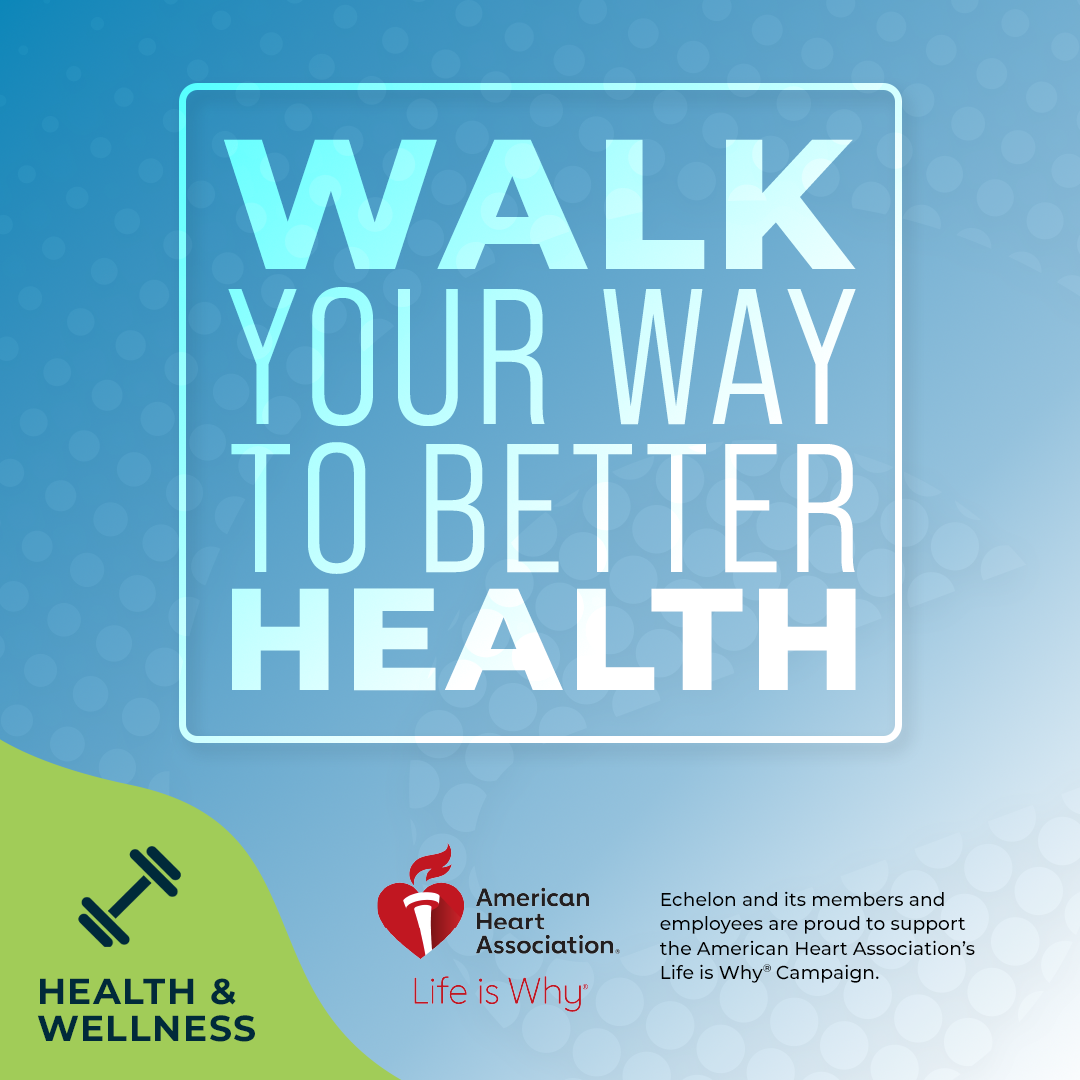 Getting in a daily walk has a whole range of benefits and can have an all-around positive ripple effect on life. And if you've gotten out of the habit or are looking to take your daily walks to a new level, what better day to start than National Walking Day? Established in 2007 by the American Heart Association, this holiday is all about getting active and staying healthy. We've got all the info you need to get started and make the most of each step. So grab a friend, a comfy pair of shoes, and step to it.
A Walk a Day Keeps the Doctor Away 
When it comes to leading a healthy lifestyle, a daily walk is a simple and easy way to reap a world of benefits. It's recommended that adults aim for two and a half hours of moderate-intensity exercise, or 75 minutes of vigorous activity, each week, and walking every day can help you meet those requirements or work up to your own fitness goals. 
Getting in those daily steps is a great way to keep your body active and can offset some of the risks of being sedentary, such as heart disease, stroke, diabetes, and certain types of cancer. Studies have also shown that consistent walking will help you think better, feel, and sleep better; while increasing your energy and stamina. Taking a daily walk is great for your physical health as it helps maintain weight, improve blood pressure, blood sugar, blood cholesterol levels, and bone health. Additionally, it helps improve mental health and memory while decreasing the risk of depression and dementia. Win-win.  
Getting Your Steps in & Staying Safe
Whether you've been hitting your daily step goal for years or are just getting started, it's always important to keep safety in mind. Here are a few ways to take care of your body while staying active.   
When walking, try to keep your head lifted – that's right, avoid texting or looking down at your phone too much. Keep your shoulders relaxed and your abs engaged. Whether you're walking on a treadmill or taking a stroll outside, make sure you keep your stride natural and comfortable. 
When you get ready to walk, make sure you've got on comfortable clothing. If you're walking outside, layer up so that as you burn calories and your body temperature climbs you'll be able to cool off. Wearing shoes that are made for walking or running will offer the best support, but you can get your steps in with almost any pair as long as they fit properly.
Pro tip: avoid cotton socks - they lock in moisture and can cause blisters. Try socks made from merino wool as it wicks moisture and adds breathability and cushion. 
If you're walking outside early in the morning or later in the evening, make sure you've got on brighter colors or add some reflective gear to your outfit. Carrying a light is also a good way to stay visible and help you see where you're going.
When walking on a treadmill, make sure to keep the pace and incline at a comfortable level, and always use the safety systems put in place. Echelon's Smart Treadmills are each designed to create next-level support and offer a range of safety features, perfect for getting in your miles one step at a time. 
Find Your Stride & Maintain Motivation
Staying active can be tricky but getting your daily steps in doesn't have to be a chore. After a long day at work, getting moving might be the last thing on your mind, but why not add just one more block to your route when you take the dog for a walk. Or when you head to the grocery store, park farther away and sneak a few extra steps in that way. If you find yourself on a long phone call, take it outside and walk the street. Before you know it, those little changes will add up, and you might even find yourself surpassing your daily goal. 
If you've hit a rut with your routine, why not invite a friend or neighbor on a walk? Maybe find a new podcast or some music to listen to as you get your steps in. Or better yet, jump into an Echelon walking class. Not only will you be joining a community focused on a healthier lifestyle, but you'll be able to stroll through scenic walks filmed all around the world while hitting your goals and learning from world-class instructors. 
Adding a little variety can help maintain motivation, so when you're spending a little time on your Smart Treadmill, try changing up speeds and adding in a few brisk intervals or increasing the incline. Over time you might see that you've gotten more stamina and want to challenge yourself even more.
One Step at a Time
So no matter where you're at in your fitness journey, National Walking Day is the perfect time to take a new step. Whether it's taking the stairs instead of the elevator as you head into work or joining in on a new Echelon walking class, there's no better time than now to start meeting your daily goal. Your mind and body will reap the benefits as you get moving and stay active.
---