Fun & Healthy Fall Recipes from Nicole, Dani & Eden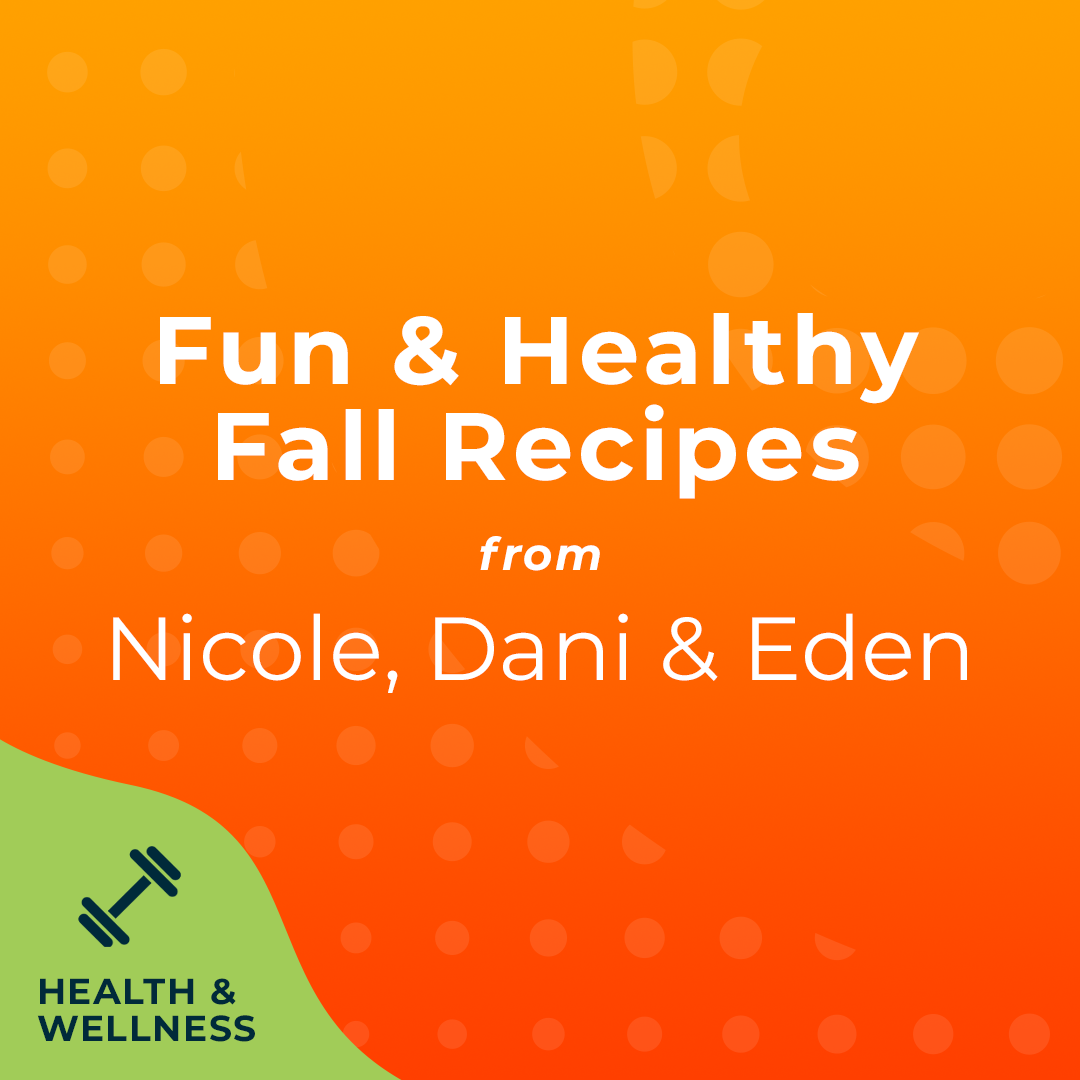 Fall is definitely here which means its time to cook meals featuring our favorite fall flavors! This time of the year is perfect for warm soups, pecans and apples so check out some of our instructors' favorite fall recipes. 
Healthy-ish Carrot Soup
Ingredients
2 lbs Carrots 
1 Large White Onion 
3 Cloves Garlic
4 Cups Vegetable Stock
1 Cup Spinach
1/4 Cup Ricotta Cheese
1/4 Cup Chopped Green Onion
Sprinkle of Parmesan 
Instructions
1. Chop carrots, onion, garlic, spinach and green onion. 
2. Heat oil in a pot on medium high heat. Add onion and garlic and cook for 3-4 minutes. 
3. Toss in carrots and vegetable stock. Simmer 12-15 minutes. 
4. Remove from heat and let cool down. 
5. Once the mixture has cooled, throw in blender. An immersion blender will work too. Blend to your desired texture. 
6. Return soup mixture to pot. Add ricotta, chopped spinach and season with salt and pepper. Heat soup on medium high for 5 minutes.
7. Transfer soup to bowls and top with green onion and parmesan cheese. 
Fall Chicken Salad Recipe
Ingredients
8 oz Spring Lettuce Mix or Romaine
2-3 Small Apples (I use like Honey Crisp)
1/3 Cup Roasted Pecans
1/3 Cup Dried Cranberries
1/4 Cup Crumbled Bleu Cheese (Can substitute for feta)
Cooked and Diced Seasoned Chicken
1 Lemon
Dressing
1/2 cup olive oil
1/4 cup balsamic vinegar
1.5 teaspoon honey
1 teaspoon Dijon mustard
1 clove garlic
Instructions
1. Prepare the chicken for the salad. I like to grill my chicken but it can be
cooked in an oven or airfryer. For a quick meal use a store bought rotisserie chicken. Once cooked, chop into bite sized pieces.
2. Roast the pecans. Roast them by lining a tray with parchment paper and
placing the pecans in a single layer. Toast them for about 4-5 minutes at 350
degrees F watching carefully to avoid burning. Place the lettuce in a large
bowl. Top with pecans, cranberries, and bleu cheese. Add the prepared
chicken.
3. Slice the apples into thin slices. Toss the slices with 1-2 teaspoons of freshly
squeezed lemon juice. Add to the salad.
4. For the dressing: finely mince the garlic. Combine all the ingredients in a jar
with a lid. Shake until well combined. Add salt and pepper to taste.
5. Top the salad with dressing right before serving and enjoy.
Crockpot Salmon
Ingredients
32 oz Vegetable Broth 
1 Bag of Spinach 
2 Salmon Filets
4 Lemon Slices
Instructions
1. Add vegetable broth, bag of spinach to crockpot. Place salmon and lemons on top. 
2. Cook on low for 2-3 hours. 
3. Enjoy!
---