How to Keep Your Skin Healthy in the Summer with Dr. Steven Wang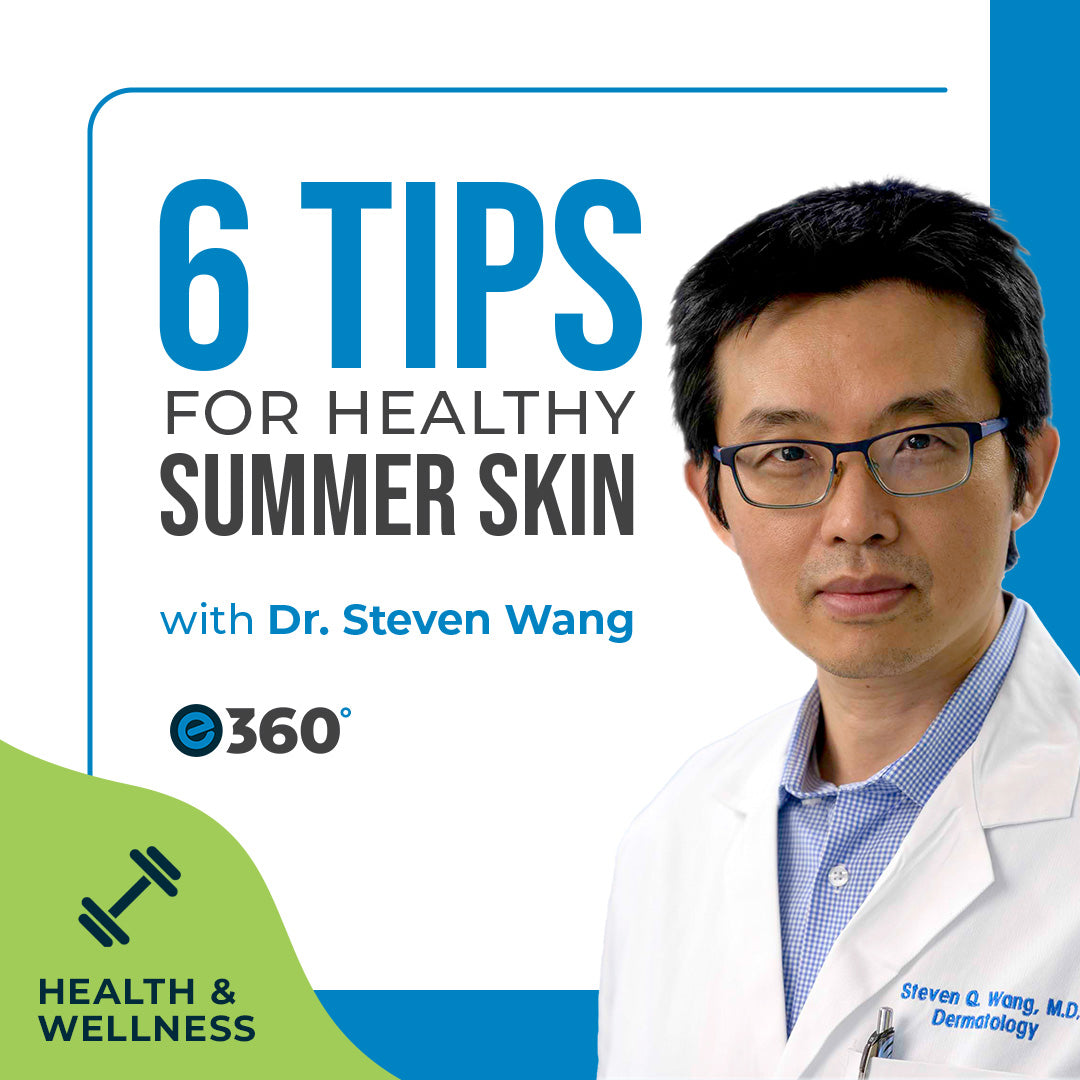 We all want to be healthy but so many of us overlook skin health! During the summer we are at a higher risk for skin concerns so to help us keep our skin healthy, we spoke with skin health expert, Dr. Steven Wang. Dr. Wang is a partner in our new initiative Echelon 360, where we work with subject-matter experts to provide meaningful content that will enrich the well-being of members and foster a community of health and education.
Here are Dr. Wang's top six tips for summer skin health:
1. Protect Your Skin
During the summer, we all want to have fun in the sun, but don't forget to protect your skin! Dr. Wang emphasizes three simple ways to protect your skin from the harmful effects of UV rays:
Wear Protective Hats & Clothing

Avoid Peak Hours: 10 am to 2 pm

Wear Sunscreen
UV radiation from the sun is the number one cause for skin cancer as well as prematurely aging your skin. Just covering up, avoiding the outdoors during peak hours, and wearing sunscreen will go a long way to keeping your skin safe.
2. Use Sunscreen Correctly
Speaking of sunscreen, Dr. Wang comments that many people are unaware of proper application and SPF. While sun in the fall and winter isn't as strong, during the summer you need an SPF of at least 50 and it needs to be waterproof. However, it is only water resistant for 40-80 minutes and should be reapplied every two hours when dry. 
Additionally, make sure you use enough sunscreen. The average-size American adult needs roughly one ounce (a shot glass amount) of sunscreen to adequately cover their whole body. If you don't put enough on, the SPF goes down and it won't be as effective. Sunscreen is normally sold in four to six ounce bottles, which means when used correctly, that is four to six applications. 
3. Stay Hydrated & Take Your Vitamins
Staying well hydrated is another important aspect of skin health in the summer. Because we all sweat more when it is hot and are often more active, you are losing electrolytes and water content at a higher rate. Dr. Wang's suggestion is simple: "hydrate, hydrate, hydrate!"
Additionally, the nutrients you consume or are lacking will impact your skin regardless of the time of year. Dr. Wang recommends niacinamide, which in is vitamin B, at 500 mg twice a day. Recent research indicates that niacinamide at that frequency and dosage can help decrease the risk of skin cancer by almost 25%. He comments that the theory behind it is that niacinamide empowers and optimizes cellular function by generating ATP molecules. These ATP molecules are like cash currency for cells and can potentially improve DNA repair. Good for your skin, good for your body!
4. Clean Off Irritants 
As previously mentioned, we all get sweaty especially during the summer. While sweat is actually very beneficial as it keeps your body cool, once it evaporates the remaining salt can irritate your skin. So take your #sweatyselfie but then get washed up!
The same principle is true for salt water. The beach is a common summertime destination but the salt water plus the sand can lead to irritation. Even if you aren't at the beach, swimming in chlorinated water can negatively affect your skin if you don't rinse off after. 
Dr. Wang does want to point out that some conditions like eczema and psoriasis can be improved by salt in combination with the sun, but in general, plan to keep your skin clean! And don't forget to moisturize after you bathe to further keep your skin hydrated.
5. Don't Forget the Scalp
One area of the body that most of us forget when it comes to skin care is the scalp. Dr. Wang states that the number one area for skin cancer is the scalp, especially along the hairline. Especially for men with a thinning or receding hairline, paying extra attention to covering up with a hat and applying sunscreen to the scalp is a necessary step to preventing skin cancer. 
6. Go to a Dermatologist
Finally, Dr. Wang reminds everyone to get a check-up by a dermatologist. A dermatologist check-up will involve looking at your skin head to toe to check for anything concerning. If there is something suspicious, a biopsy may be ordered. There are more than three million skin cancer diagnoses every year and a cancer diagnosis of squamous cell carcinoma accounts for almost nine thousand deaths annually. Dr. Wang isn't being dramatic when he says, "don't delay because you really can save your life."
Stay Healthy!
When it comes to health this summer, don't forget your skin! Follow Dr. Wang's advice by protecting your skin (including your scalp!), using SPF correctly, staying hydrated, taking niacinamide, and getting a check by a dermatologist. These simple steps can help prevent skin cancer and premature aging.
Dr. Steven Q. Wang: Echelon Skin Health Expert
Dr. Steven Q. Wang currently serves as the Director of Dermatologic Oncology at the Hoag Family Cancer Institute, and Chief of Dermatologic Oncology & Dermatologic Surgery at Hoag Memorial Hospital Presbyterian Hospital in Newport Beach, California. Prior to joining Hoag, he served for 16 years as the Head of Dermatology Section and Director of Dermatologic Surgery and Dermatology at Memorial Sloan-Kettering Cancer Center in New Jersey. He was also an Associate Professor in the Department of Dermatology at Weill Medical College of Cornell University. He specializes in the diagnosis, treatment, and prevention of skin cancers, especially melanoma. His research has been focused on melanoma detection, application of artificial intelligence, and nanotechnologies. He has published more than 90 scientific papers and book chapters. He has authored 5 books. Dr. Wang has lectured extensively in the United States and around the world. Dr. Wang is the co-founder of the Nanodermatology Society, and serves as the president of the Photodermatology Society, and Chair of the Photobiology Committee of the Skin Cancer Foundation.
---