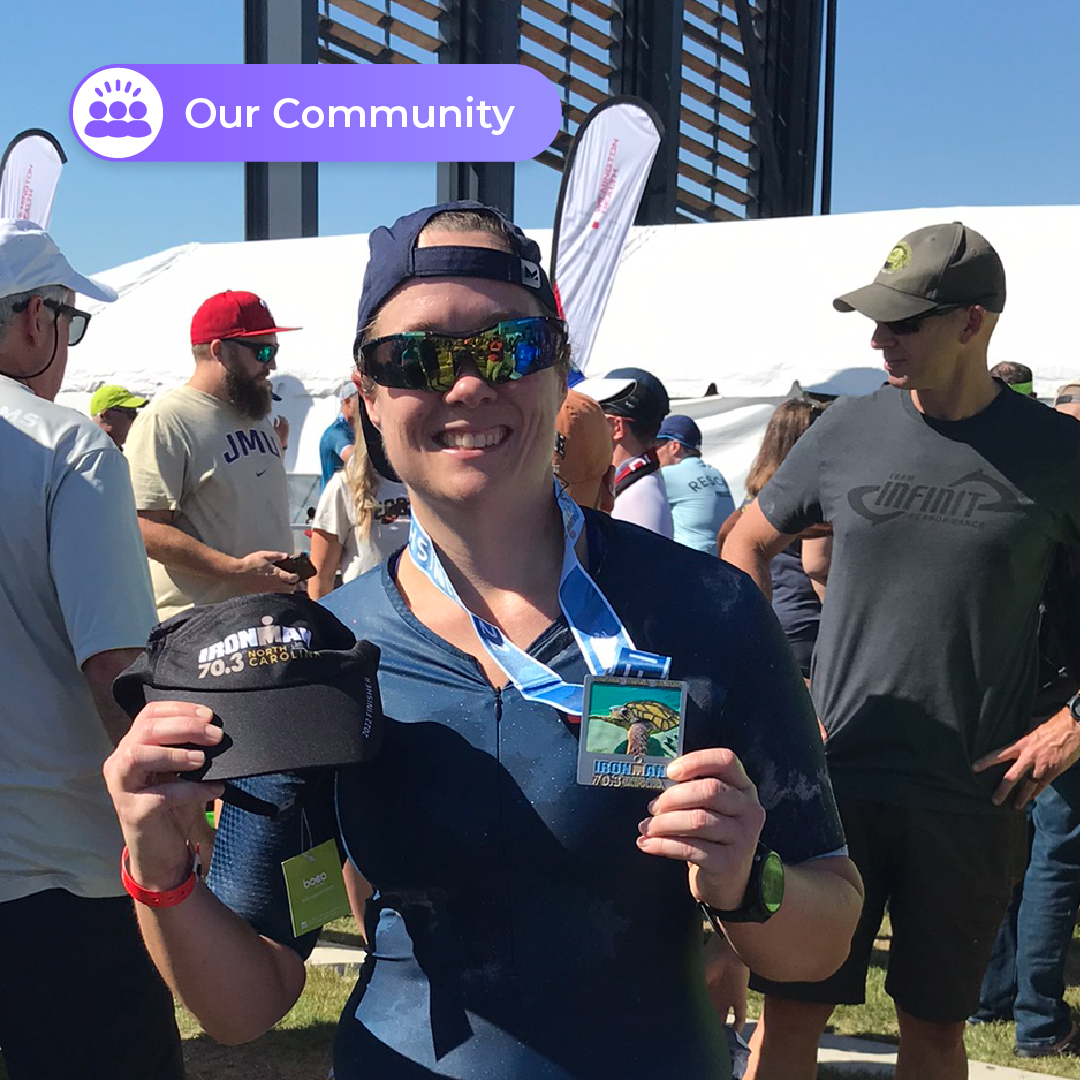 Meet Laura Smith, or as our community may know her as La La on the leaderboard! Laura has been a part of Team Echelon since it's beginning in 2019 and so we wanted to chat with her about WHY Echelon. Her story is so inspiring and we know you'll think so too! Hear more of Laura's story:
How did you hear about Echelon? What got you started? 
I heard about Echelon in a round about way. It was 2019, and I had just been told I needed total knee replacement due to my right knee being bone on bone, with several bone spurs under the knee cap and the knee tracking to the right. I was also 220 pounds. I was told if I didn't want surgery, I could try to ride a bike and make my quad stronger to pull my knee into the right spot. A bunch of my friends had [a stationary bike] and I tried one out. I had taken one spin class in my life and hated it, but I liked the [stationary bike]. I did not like the price tag. I researched and found Echelon. A few hours after I tried the [other stationary bike brand], I went to a home gym equipment store, saw the ex-5s, and in the span of a few moments, had plunked $1,500 down on what everyone thought would become an expensive clothes rack. The bike arrived December 18, 2019.  I took my first class December 19th. The rest is history.
Why did you stay with Echelon? What makes Echelon different from other programs/companies/communities?
I stayed with Echelon and stuck with a consistent routine because of the community. 100% the instructors and folks I met on the social media page are the only reason I stayed. The equipment and class offerings on their own would never have been enough to keep me engaged and accountable. Covid hit a few months after I bought the bike, and by then I had made a sizable group of contacts with other home riders. It was so amazing to have these people I had never met before jumping on Zooms and getting to know each other during lockdown. It was great for the social isolation and also for my sanity, since I am a nurse and got to experience Covid in a way most thankfully did not.
Also, I connected with the instructors very quickly. The Miami studio did not exist when I joined, so it was the Chattanooga folks. I remember messaging some of them when I first joined and being star struck and stunned when they replied. Then, I came up to the studio in February 2020 and got to take live rides and meet everyone. I met Megan Hanewald, Amber Harper and Nicole Griffin within the span of an hour. I was worried I would feel judged or not enough for being so out of shape, but that couldn't have been further from what happened. I met almost every Chattanooga instructor on that first visit, and soon the instructors were reaching out to see when I was coming back. My friends who rode [a different stationary bike] didn't have that experience. They couldn't talk to their instructors. They didn't have actual friends they had made from the community. It was such a unique community.
Echelon is different because of its community. Not the products. Not the programming. The community. Without the community, I am confident I would not still be active with it.
How did Echelon impact your life? Any significant changes to your life? 
Oh where to start with this one….When I got the bike, I was the heaviest I had ever been in my life. I was in a crumbling marriage that had been an ambivalent roommate situation longer than it had been a marriage. I was miserable, depressed and felt like I had no way out. Echelon gave me an escape. It also gave me a community of people who made me genuinely feel like I could succeed and that I had more to experience in life than my current situation. If Covid wasn't bad enough, try doing social isolation with someone you have wanted to divorce for years, who now works where you work. 0 of 5 stars. Do not recommend.
The instructors (Eden, Megan, Amy and Brian) were letting me come up and crash with them in their homes (negative covid test provided, of course). Over this time that I was escaping to Chattanooga, I was taking multiple bike classes a day. There was no rower, stride, reflect and fitpass did not have all the offerings it currently does. I was starting to lose weight. It was the first time in my life I had ever stuck with a workout program longer than a few weeks. I felt empowered. On my second visit to Chatt, Janet Adams point blank looked at me and said, "Let me know when you are ready to move here. I know a bunch of people in the hospitals around here and we can get you a job." I thought she was nuts. I had a job and spouse in Atlanta. I was not moving to Chattanooga. Plus, she had just met me. Why would she put her neck out to get me a job? I kept coming up to Chattanooga and soon found myself getting upset when I had to go back to Atlanta at the end of the weekend.
Finally, in May 2020, I got up the courage to file for divorce. The community of riders and instructors were there for me in ways I can't even describe. From listening to me on phone calls to taking up a collection so I could finish redoing my kitchen so I could sell my condo…It was unexpected. A few weeks after I filed for divorce, I lost my job due to Covid budget cuts. I texted former instructor Megan Hanewald that I had just lost my job. Before I could blink, she had called me and invited me up for the weekend. I realized Chattanooga was the place where the next chapter of my story was going to start.
I moved to Chatt in August 2020. I was in close to the best shape of my life and firmly embedded in one of the most supportive communities I had ever experienced. By October 2020, Eden had convinced me to give the world of triathlon a try (which I had sworn I would never do), and I signed up for a Half Ironman. So many of the instructors helped to shape my training program off the bike (Marsha, Megan, Amber, Eden).
While I was training for my first Half Ironman that was going to take place in Des Moines, Iowa in June 2021, I connected with a home rider from Los Angeles named Daniel. We had commented on each other's posts before, and he was coming to Chattanooga to visit. Several home riders told him to reach out to me to get planning tips since I had become the unofficial Chattanooga Echelon tour guide. We started chatting on the Facebook page, which led to messaging about his trip. Long story short, I asked him if he wouldn't mind chatting with me in real life on the phone while I was trying to drive a long distance after a 12 hour shift. Since he was on the West Coast, it made more sense to ask him than a friend who would be asleep on East Coast time. What should have been a 30 minute conversation lasted 4 hours…and hasn't really stopped since then. We got engaged in September 2022 and I moved in June to Los Angeles.
From a fitness perspective, I have completed a handful of 70.3 Half Ironman races, which is something I would have never been able to say without having the influence of this community. I truly do not know where I would be without the Echelon community, but I know it wouldn't be somewhere as positive and uplifting as I am now.
So, by joining and sticking with the community, I have:
      Gained real friends in the community, both riders and instructors

      Been able to get in the best shape of my life and learn how to exercise/train across several modalities.

      Gain the confidence to get out of a bad relationship and take the risk to move to a new place

      Found my fiancé

      Joined the world of triathlon

      Wrote a book about all of the above, with a focus on the last part
What would you say to someone new in the Echelon community? 
Welcome! You have found the most supportive, inspiring place you can be. The leaderboard place doesn't matter. What matters is showing up for yourself consistently. Find accountability buddies and get involved in the community through social media. The more you are involved, the more amazing this community becomes. I have made many friends and been lucky enough to meet dozens, maybe more, home riders from all over the world in person. Show up even when you do not feel like it, because you will never regret the workout, even if you need to make it a recovery effort versus an all out effort.
Anything else you want to share? 
I was inspired to write a book about my journey from completely out of shape to a complete triathlon rookie trying to get herself to a place to complete a 70.3 mile race. Since I would not have even considered doing a triathlon without the results I saw with Echelon and the good/bad influence of Eden getting me to sign up, I can safely say I blame Echelon for this book existing. It was a blast to write. I hope it can serve as inspiration for someone to know they can do hard things, and that they can do things that seem impossible at this moment. It is called "Good Luck on Your Marathon: My Journey from Excellent Couch Potato to Average Triathlete," and is available in paperback and e-book everywhere books are sold. If you live outside of the US, I would recommend the e-book as the physical book takes awhile to ship.
If you see La La on the leaderboard or in our Official Echelon Community on Facebook be sure to reach out and say hi! Big thanks to Laura for sharing her story with us! 
---