Members Nominated Eche-Friends for a Milestone Surprise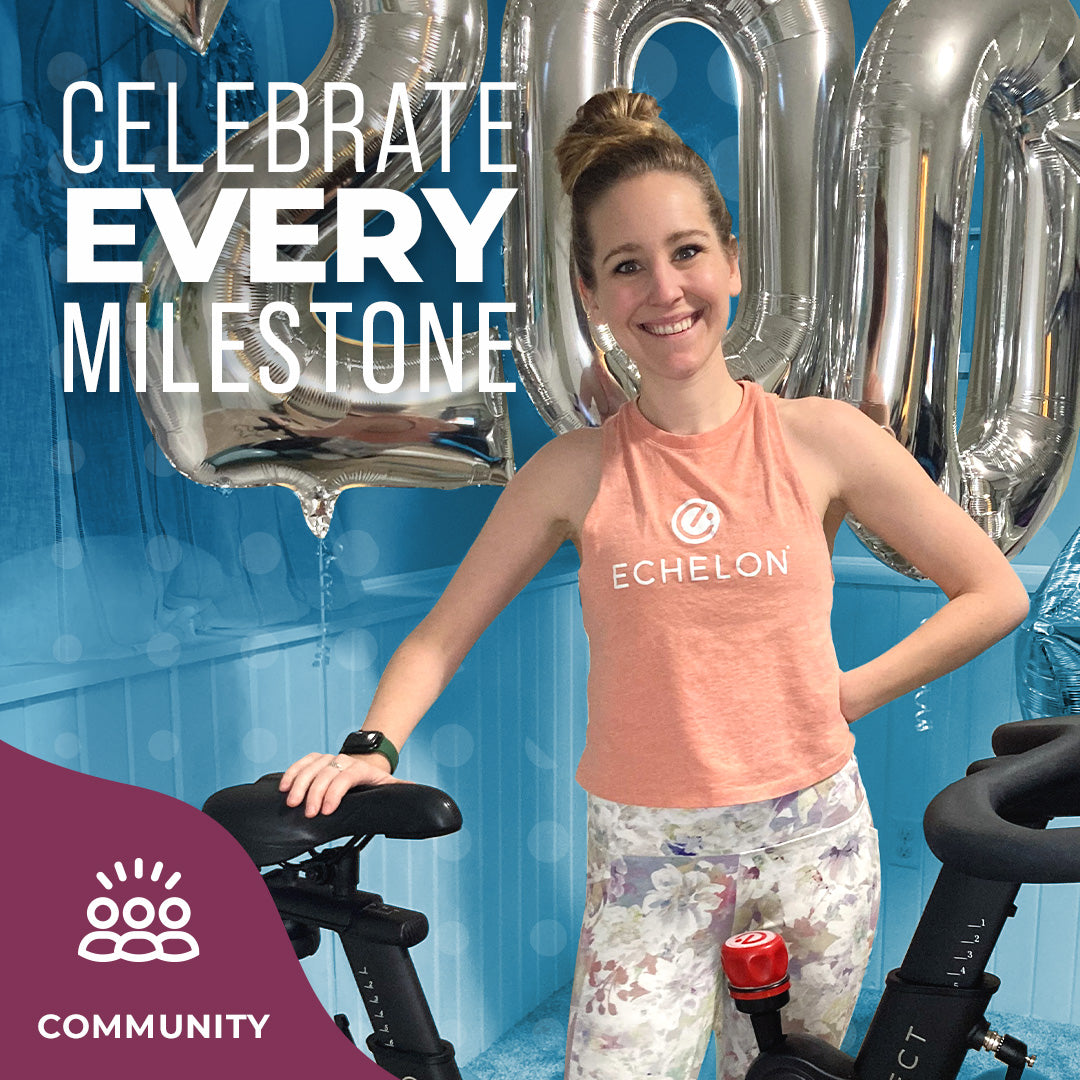 We asked the Echelon community to nominate their Eche-friends with upcoming milestones for a surprise giveaway. The community enthusiastically responded with positive messages honoring their cheerleaders, accountability partners, and morning motivators. Here are some of members celebrating their milestones and why others felt they deserved a special shout-out. 
Maya H. | 300 Rides

"I would like to nominate Maya H. who it hitting her 200 ride milestone. She is super supportive in the community and deserving of an extra special shoutout!" - Meredith W.
"Another vote for Maya H. aka Mama Henn! After caring for my Dad 24/7 for 3 years before his passing, she has finally found something to pour her energy into! She has a healthier lifestyle than ever and is an amazing supporter to everyone in the community. She just hit 200 rides after celebrating 100 on 11/26! She is cruising!!!" - Nicole Myers
Stephen K. | 100 Rows
"Stephen K. I've known on the Leaderboard and as an amazing riding friend for almost 2 years. He's a no-muss kind of guy. He's celebrating his 100th row…When it comes to supporting your fellow riders and rowers Stephen is second to none. He's a solid cornerstone of this community and when it comes to heart he definitely gives it his all each and every ride and row." - Ray P.
Erika L. | 200 Rides
"Erika L. is celebrating her 200 ride and 200th FitPass class! She has been an inspiration to many and gives me motivation every single day!" - Brandie S.
"Erika L. 200 rides. Brings her [amazing] fun-spirited personality to the rides and chats. Always ready to hop on to ride and support others." - Ray P.
José F. | 1000 Rides
"José F. aka @Joey in the 505 just reached the 1000 ride milestone! He has been a huge source of support and inspiration for many us! He gets up to ride every day at 4:30 am and is Echelon's Original Gangster." - Brandie S.
Meredith W. | 2000 Workouts
"I do believe Meredith W. is coming up on 2000 workouts, soon!!! If she hasn't already snuck past it! She is such a cheerleader for our community AND one half of the Bike That Goes Nowhere podcast!!" - Alex Z.
Pam R. | 100 Runs
"Pam is always an inspiration and is always bringing members together to celebrate their milestones" - Mari E., Echelon Instructor
Randy F. | 100 Runs
"Randy F. is coming up on 100 runs. He had a heart attack three years ago and just ran a marathon in October training with Echelon." - Katie F.
Ray P. | 1000 Rides
"I nominate Ray Porter for his upcoming 1000 rides. He is an amazing cheerleader to so many & has even ridden in jeans to ensure no one rides alone." - Adrienne K.
"Ray Porter he is so motivating and is the backbone of many Echelon communities! Wouldn't be the same without him!!" - Desirée S
Kelli Q. | 1100 Workouts
"Kelli Q. who just completed 1000 workouts!!!! Absolutely an amazing human inside and out." - Daphne P. 
"Kelli Q. aka The mother of Pigs is such an amazing part of this community! Always more excited to celebrate others' milestones than her own!" - Nicole M.
Reaching major milestones requires dedication, patiences, and a lot of sweat! We are proud these members are a part of the Echelon community and hope that their dedication will help inspire you to reach your next fitness milestone.
--
New to Echelon? Join the Echelon community and meet your Eche-friends! From celebrating each others successes to being great accountability partners, the Echelon community is here to support you and your fitness goals!
---