2021 Mother's Day Gift Guide for Active Moms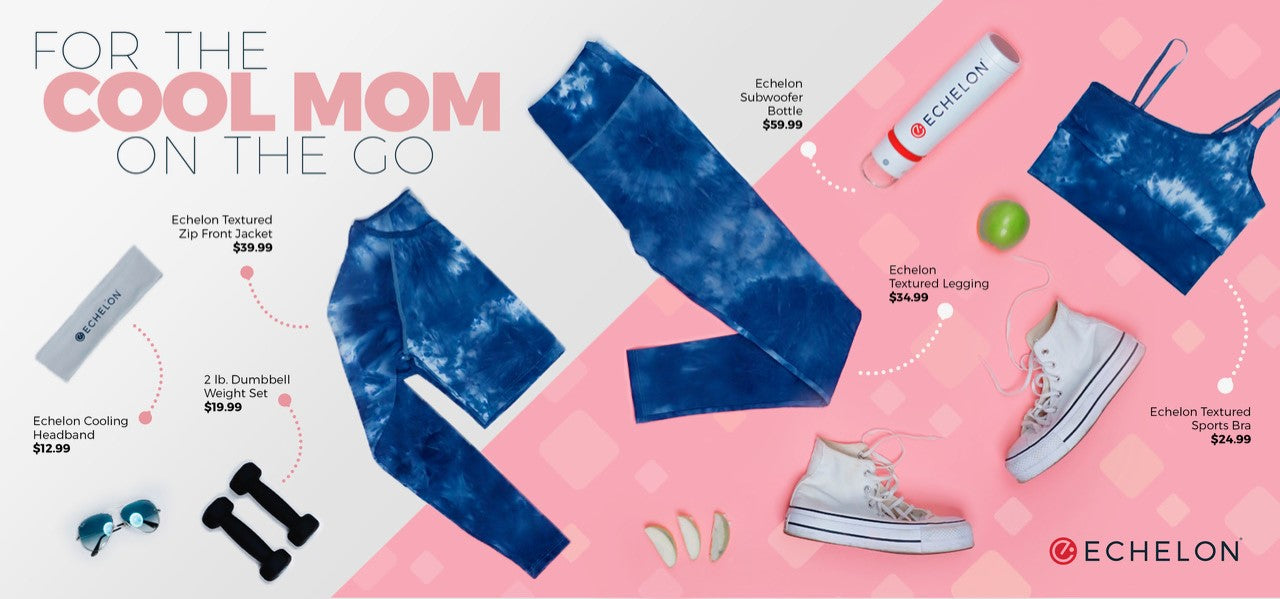 These days there is no need to sacrifice style for function when it comes to activewear. We put together two gift guides with some outfits and key accessories to help you shop for Mother's Day. You can buy the whole look, or mix and match based on your budget; either way, you can rest easy knowing the active mom in your life will be thrilled.
Gift Guide for the Fashion-Forward Mom 
Your favorite fashion-forward mom can enjoy being on-trend working out or posing for a selfie in our brand new Textured line.  This collection is the perfect mix of fashion and function. Shown here in a muted mauve-like color called "Mocha," it is also available in a cool Silver, vibrant Orange, and classic Black. The Textured Sports Bra and Zip Front Jacket incorporate mesh detailing that set them apart from your typical workout attire, while the Textured Legging has a ruched back seam perfect for a #TikTokLeggings video.
Echelon Textured Zip Front Jacket - $39.99  
Echelon Textured Legging - $34.99 
Echelon Textured Sports Bra - $24.99
Echelon Cooling Headband - $14.99
Echelon Stainless Steel Tumbler - $14.99
2 lb Dumbbell Weight Set - $19.99
Gift Guide for the Cool Mom on the Go
We know that moms are busy, and in this fun look, the cool mom in your life can look good whether she is taking a yoga class or running errands. Shown here in Blue Cloud, the Acid Wash collection is a subtle nod to the tie-dye trend and is also available in Purple Cloud and Charcoal Cloud. The asymmetrical straps on the Acid Wash Sports Bra hints at the one-shoulder trend, while offering two shoulder support. The Acid Wash Lifting Legging features a ruched back seam and can be paired with the long-sleeve Acid Wash Crop Top for cool Spring evenings.
Echelon Acid Wash Crop Top - $39.99
Echelon Acid Wash Lifting Legging - $39.99
Echelon Acid Wash Sports Bra - $29.99
Echelon Cooling Headband - $14.99
Echelon Subwoofer Bottle - $59.99
2 lb Dumbbell Weight Set - $19.99
With activewear this stylish, there is no need to keep it only for working out. Give the gift of multi-purpose style this Mother's Day!
---