Supporting Breast Cancer Awareness Year-Round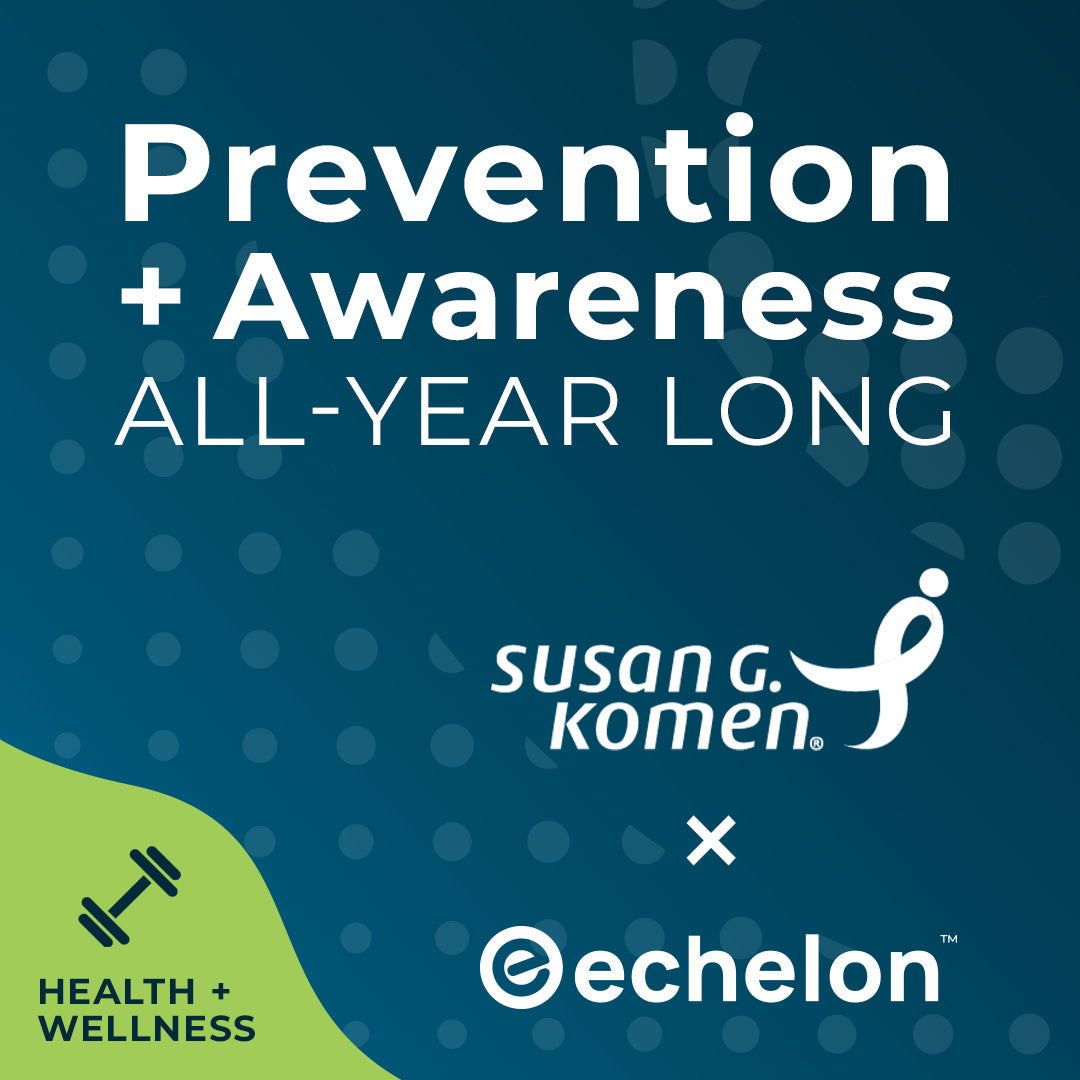 Breast cancer affects one in eight women, and over seven million people worldwide live with breast cancer today. Alongside Susan G. Komen®, Echelon seeks to see a world without breast cancer. To show our support and raise awareness, we dedicated October to share stories of those affected by breast cancer, had special classes, and launched our limited-edition pink product line where we donated a portion of sales to Susan G. Komen®.
One of the biggest advocates of our collaboration with Susan G. Komen® is our CEO Lou Lentine, who lost his mother to breast cancer 19 years ago. Lou has turned his loss into a lifelong passion for philanthropy, especially around breast cancer charities.
"You never really recover from losing a parent," he revealed. "There is nothing I can do to get that time back. But by partnering with Susan G. Komen® and their dedication to research, education, screening, and treatment, we are working towards a future without breast cancer."
We know that the fight continues past October, and so we want to continue our support year-round and encourage others to do the same. We invite everyone to join the fight against breast cancer. Here are the top ways you can make a difference all year round.


Ways to Reduce Risk
An integral part of Susan G. Komen®'s mission is education, including ways we can lower our risk of breast cancer. While many risk factors are out of our control, there are actionable things you can do to reduce risk such as living a healthy lifestyle.
Maintaining a healthy lifestyle, including a balanced diet and exercise, is related to a reduced risk of breast cancer. Susan G. Komen® President and CEO Paula Schneider emphasized this as a reason for working with Echelon. She explains, "We believe in aligning with companies that encourage a healthy lifestyle is critical to reaching more people and ultimately, saving more lives."
Beyond lowering the risk of breast cancer, making healthy choices may also help to prevent other chronic diseases like diabetes and heart disease. Paula spells it out simply as, "being active is good for your overall health, and of course, it's fun!"
For more information on how a healthy lifestyle can help to reduce the risk of breast cancer, read the blog post Breast Cancer + the Benefits of Exercise.
Ways to Advocate
If you are a breast cancer survivor or currently undergoing treatment, advocating for breast cancer screening and research are one of the best ways you can make an impact.
Research studies need survivors and those undergoing treatment to work on increasing survival and finding a cure. To help locate a clinical trial that fits your needs, Susan G. Komen® collaborated with BreastCancerTrials.org to offer a custom matching service. 
Survivors can also serve as advisors or volunteers for advocacy groups. Susan G. Komen® established its Advocates in Science (AIS) Program to build skilled, knowledgeable, and broadly‐networked breast cancer research advocates. They are actively engaged throughout the research process, where they bring the patient voice to Susan G. Komen®'s — and other organizations'— research programs in all areas of breast cancer research.
Advocating also requires familiarizing yourself with public policy. The Susan G. Komen® Center for Public Policy helps people learn about public policy issues and empower them to become strong advocates for change. Uplift the voices of people with breast cancer — they deserve to be heard by lawmakers and government agencies across the US.
No matter how you get involved, taking part in such efforts makes you part of the progress being made to end breast cancer.
 
Ways to Fundraise
Fundraising is a way anyone can support breast cancer awareness. The truth of the matter is that imperative research, clinical trials, and education all require funding. Supporting Susan G. Komen® will help them fund life-saving research, treatment, education, and community health programs.  
You can turn any activity or event into a fundraiser to support breast cancer care and research, or you can join an event dedicated to the cause. There are many races and walks that you can register for, and the entrance fee becomes a donation to causes like Susan G. Komen®. They are working towards finding a cure, one step at a time. 
You can also join the 3-Day®, a group of more than 500,000 people nationwide who have walked 60 miles, raising funds to help end breast cancer. They are a community of dedicated women and men who challenge themselves to a three-day, 60-mile journey each year. Over the past 18 years, they have raised more than $863 million to save lives, support community programs, and make huge strides in breast cancer research.


Ways to Give
If you are short on time but still want to support breast cancer awareness, the easiest way to do so is by donating directly. Susan G. Komen® makes it simple with a number of options on their website. You can make a donation in memory of a loved one or to celebrate a loved one's survivorship, a special occasion or simply to recognize their courage in fighting breast cancer with a memorial or tribute gift. 
You can also check to see if your employer or company supports matching gifts. The Susan G. Komen® website walks you through the process of requirements and procedures. 
Finally, you can leave a legacy of hope through your estate. Including Susan G. Komen® in your estate plan is a simple way to continue your philanthropic and charitable work as part of your legacy.


Final Thoughts
Many members and employees of the Echelon community have been affected by breast cancer and alongside our CEO Lou, we want to do what we can to stop this terrible disease. "It has been 19 years since I lost my mom and we still don't have a cure," Lou laments. "I want to do what I can to change that. I don't want anyone else to have to go through the pain of losing someone they love."
We encourage you to join Echelon in committing to the support of breast cancer awareness all year round. You can do so by advocating for the cause, fundraising, donating to charities like Susan G. Komen®, or simply dedicating yourself and encouraging others to lead a healthy lifestyle.
---