How to Stay Healthy During The Holiday Season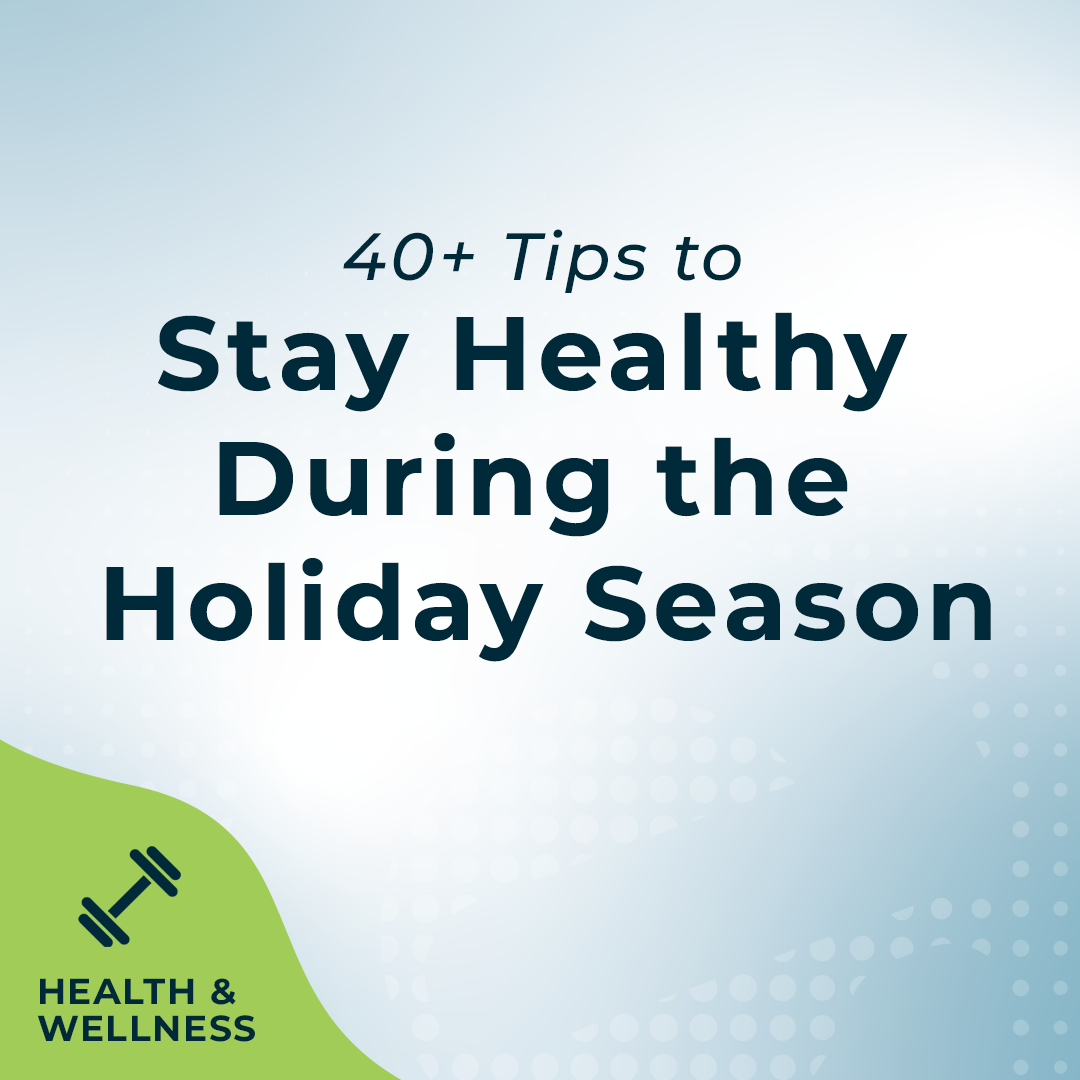 The holidays are a great reason to spend time with loved ones we don't often see, go to holiday parties, and enjoy holiday foods. However, the holidays also bring new challenges such as resisting the temptation to overindulge, maintaining your workout routine while traveling or hosting family, and managing stress overall. Never fear! Our early holiday gift to you is these tips to help you stay active, eat healthily, and manage your mental health. 
Be Active
Staying active has been shown to reduce stress and improve energy levels, which you will need more than ever during the holiday season.
Plan time to exercise

- Our schedules are often different during the holiday season so plan accordingly. Add all the holiday gatherings, travel, and dinners to your calendar so you can plan your workouts.

Set Fitness Goals

- Setting goals is one of the best ways to stay active. Having attainable fitness goals gives you something to work toward and can help keep you motivated and focused throughout the holiday season.

Move every day

- Whether you take a short walk around the block or do a 45-minute workout, it's important to keep your body active. 

Take short classes

- Don't have time for your hour-long workout routine? Try 10-minute classes. 

Dance

- Enjoy the holidays and dance away your stress and calories. 

Go outside

- Go for a walk, play in the snow, go ice skating, or even take your Stride classes outside.  

Try something new

- Switching up your routine gives your metabolism an extra boost as your body has to work harder doing those exercises it's not used to. 

Work out together

- With loved ones visiting, this is a great time to work out together. Explore FitPass classes.  

Compete against each other

- Is your family in town? Stick with your usual classes and encourage your loved ones to try the same class. See who scores higher on the leaderboard.

Get an accountability partner

- Having someone can help you stay on track. Premier memberships allow you to add five profiles for your loved ones. 

Choose Home Exercises

- One of the best ways to keep active in the winter if you can't exercise outside due to the cold and often wet weather is to opt for at-home workouts. 

Set up a space in your home

- Having a dedicated space can be a good reminder to get a workout in, even if it's a short one. 

Use their equipment

- Are you traveling this holiday season? You can still enjoy classes with your favorite instructors while using their gym equipment. 
Eat Healthily
It can be extra hard to stay healthy during the holidays with parties, nice food, and extra alcohol. Here are some tips to help you keep healthy eating habits. 
Bring something healthy to the party

- Healthy dishes are often overlooked when choosing what to bring to a party. Consider bringing something healthy to balance the options. 

Eat your veggies first

- At the buffet, fill your plate with vegetables first. Don't feel like yo

u have to avoid your favorite foods – just take smaller portions of them. 

Don't skip a meal before a party or big dinner to arrive hungry

- Eat a light, healthy sn

ack before you go. 

Eat more slowly

- Eat until you are satisfied, not "stuffed."

Enjoy the people more than the food

- Don't forget parties are to enjoy the people…the food is a bonus. 

Eat before parties

- Do you have a challenging time saying no to fatty foods? Eat a balanced meal before parties to avoid temptation. It's okay to indulge, but you'll eat less 'bad' food. 

Portion control

- Want a piece of pie after dinner? Go for it. Just limit the amount of pie you put on your plate. 

Try a bite, not the whole piece

- Holiday potlucks mean lots of yummy food options. Try making the portions smaller than you usually would to avoid adding too much food to your plate. 

Balance your daily calories

- Did you overeat at the holiday party? That's fine, balance it out by eating less at the next meal. 

Cook with less salt and fats

- When cooking from recipes during the holidays, reduce the amount of salt and fats required and substitute with healthier options. 

Avoid drinking beverages that are high in sugar or calories

- Holiday drinks tend to have more calories and can lower your inhibitions, causing you to eat more. 

Drink water

- With the increase in alcohol and rich foods, it's more important to drink your water. Try carrying around a water bottle if you don't already do so. 

Boost your immune system

- With the increase in alcohol, fatty foods, and reduced exercise, it's important to boost your immune system. 

Wash your hands

- The holiday season is also flu season. Make sure you don't get sick and miss out on the holiday fun. 
Improve Your Mental Health
The holidays can be overwhelming. Here are some tips to keep in mind. 
Remember the basics - Healthy foods, exercise, and sleep. 
Sleep well

- Turn off your alarms and let yourself catch up on much-needed rest. 

Move

- Exercise can also help improve mood and reduce anxiety.

Drink water

- Individuals who drink a sufficient amount of water daily are more likely to be mentally healthy and happy.

Eat a brain-healthy diet

- Foods that can support your mood include fatty fish rich in omega-3s, nuts (walnuts, almonds, cashews, and peanuts), avocados, beans, leafy greens (spinach, kale, and Brussels sprouts), and fresh fruit such as blueberries.

Change your mindset for holiday wellness

- The holidays are a time for relaxation, loved ones, and indulgence. Allow yourself to have a good time, indulge, and not feel guilty later. 

Avoid stress

- Easier said than done. Think about what makes you happy during the holidays and causes stress. If hosting your whole family causes you to stress, ask someone else to host this year. 

Practice saying "no"

- Say "no" to any unnecessary activities that don't make you jump for joy.

Connect with others

- The holiday season is often the only time a year you get to spend time wit

h loved ones. The dishes can wait. 

Surround yourself with positive people

- Is your family negative and leaves you feeling stressed or sad? Opt for spending time with friends or even by yourself. 

Take a real break

- A big part of the holidays is to take time off work and enjoy yourself. Sometimes the holidays can be overwhelming with all the events and to-do lists. Set aside time for yourself to relax. 

Set realistic expectations

- Do what you can. It's easy to go into the holidays wanting to do so many things but end up not being able to do half of those things. That's okay. Think about what is important and realistic. 

Ask for help when hosting

- Having a lot of people in your home can be a lot. Have a designated helper or have guests help out with small tasks. If you go to someone's home, give them a hand where you can. 

Take time for yourself

- With extra people around, it's important to do something for yourself l

ike taking a long bath or reading a book. 

Try yoga

- A slow yoga class can be a great way to destress and refocus your mind. 

Do crafts

- With family in town, doing crafts together is a great way to bond and release stress.

Walk

- If you're feeling overwhelmed, take a break and walk around the neighborhood. 

Clean/organize

- Having a clean home helps to declutter your mind. 
---