5 Ways to Fit More Physical Activity into Your Week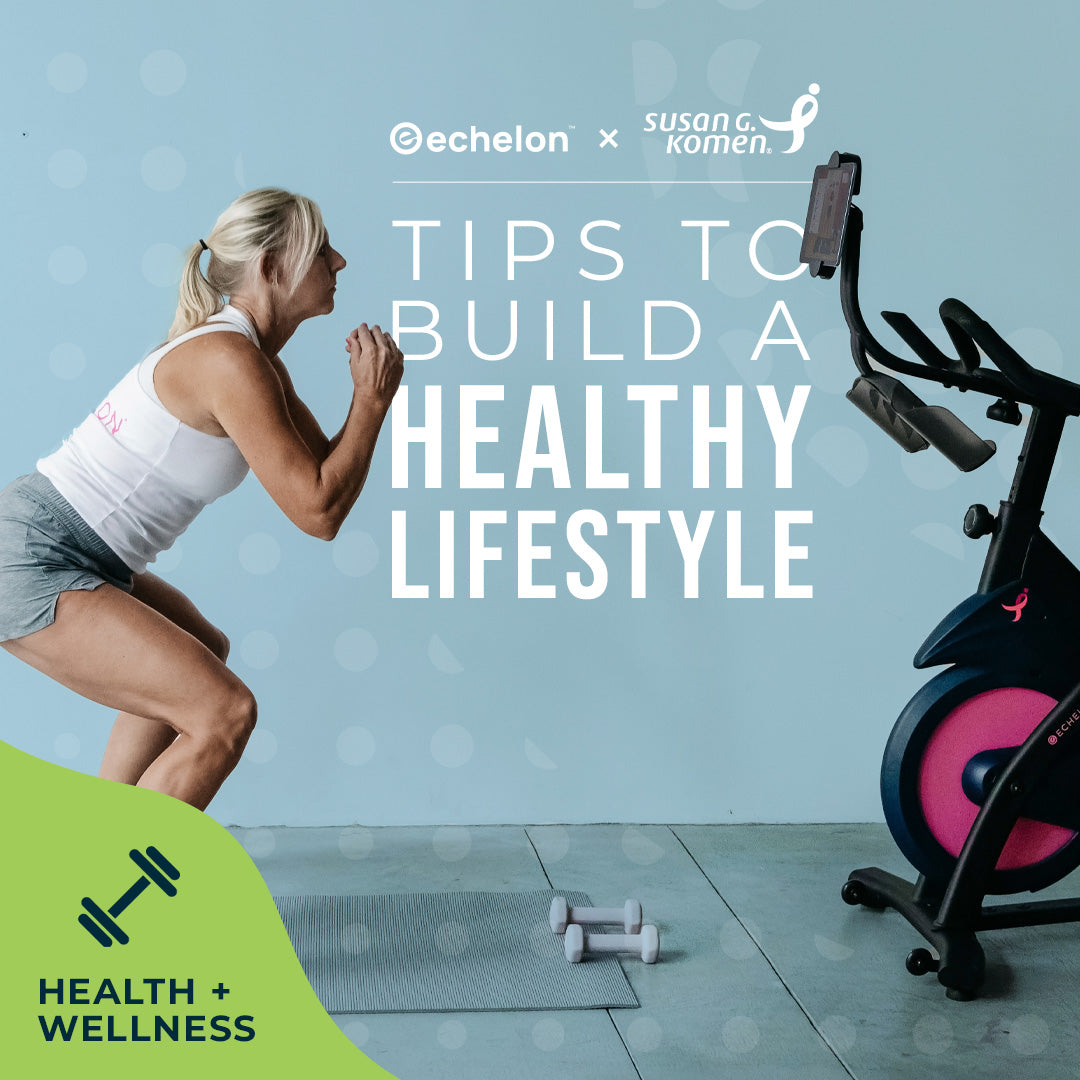 Written by Susan G. Komen, Sponsored by Echelon
Research shows that women who get regular exercise have about a 10-20% lower risk of breast cancer than women who are not active.  
The American Cancer Society recommends getting 150-300 minutes (2½-5 hours) of moderate physical activity throughout the week, or 75-100 minutes (about 1-2 hours) of vigorous activity. Moderate activities include walking, gardening, and dancing. Vigorous activities include jogging, playing tennis, swimming, and cycling. 
Women who get physical activity equal to walking 30 minutes a day have about a 3% lower risk of breast cancer than women who aren't active. 
Here are five ways to incorporate more exercise into your weekly routine. 

1. Schedule Exercise
To get more hours of physical activity into your week, treat working out like an appointment you can't miss by scheduling time on your calendar.  
Be mindful of the busiest days in your schedule when planning workouts. If Tuesdays and Saturdays are typically busy days for you, don't exercise on those days and instead use them as days to rest and recover.  
Setting an alarm on your phone as a reminder can also help you remember to get moving.  

2. Make Exercise Fun 
Exercising doesn't have to be boring. Don't be afraid to venture outside of your comfort zone and explore new ways to incorporate more physical activity into your day. Do any activity you enjoy that gets you moving: 
Take your pet for a walk. 

Plan active vacations. 

Wear a device every day to keep track of your steps. 

Join a recreational sports team. 

Use a

stationary bicycle

or

treadmill

while watching TV. 

Have a dance party with your family. 

Start a garden in your backyard or on your balcony or patio. 

Try a new activity, such as kayaking, hiking

,

or yoga. 
3. Find an Accountability Partner 
Find a friend or family member to join you in exercising. Having an accountability partner can turn exercise into an enjoyable social activity.  
You can also make friends who will become accountability partners at your local gym, office gym,  community center, or senior center. If you don't want to join a gym, many communities offer free  exercise classes. Taking a virtual exercise class at the same time as your accountability partner can help you get physical activity together even if you don't live in the same city. 
4. Set SMART Goals 
Once you find a physical activity you love, set exercise goals that are SMART — specific, measurable, attainable, realistic, and time-bound. If you don't currently exercise, set a SMART  goal to walk for 5-10 minutes to the end of your street and back twice a day for two days every week. Be specific that you will take your walks at a certain time, such as at 11:30 a.m. before lunch and at 7:30 p.m. after dinner. 
5. Automate It
Once you find a physical activity you enjoy, find a way to automate the activity to make it easier to incorporate into your weekly routine. If you enjoy yoga, browse yoga videos on YouTube and make a yoga workout playlist. When it's time to exercise, simply play your playlist and follow along. Design a walking or biking route around your neighborhood with a distance goal so you already know your planned route before you leave the house.  

--
It's never too late to adopt a healthy lifestyle. Being active can be physically and mentally rewarding at any point in life. Learn more about the benefits of exercise here. 
---